America grew up with the car; it was built around the automobile. It is therefore arguably the best place in the world for a road trip. Wide open highways, vast expanses of scenery and a great hospitality culture make for an unforgettable journey, wherever you go.
Obviously no article on US road trips would be complete without a mention of Route 66 – the Mother Road. Sadly Route 66 as it was no longer exists, but bits of it still do and you can still do the journey and parts of it are preserved as the Historic Route 66.
The first thing to decide in planning your trip is what most interests you – is it music? Is it mountains and scenery? Is it coastlines? Is it food?
For music lovers, the deep south is the place to go, specifically Tennessee and Nashville. From here drive down through Mississippi and Louisiana and end up in New Orleans. This takes in all the great music towns – Memphis, Lafayette and Nashville, where you can soak up live blues, rock and jazz while sipping beer and cocktails and eating some pretty great food too.
If you're a foodie, New Orleans really is a place you must visit. It has a range of influences which have resulted in a unique New Orleans style, including street food. You'll need at least a week to drive from Nashville to New Orleans if you want to really take it all in.
For something a bit different, consider Route 83 – aka the "Road to Nowhere". The name is not really fair, but it does convey some of the challenges of the route. 83 takes you from north to south, all the way from Canada to Mexico, so it's not for the faint-hearted. You will encounter few of the usual tourist spots on this drive, giving you a more off-the-beaten-track experience, and some wonderful scenery. Bits of the route are tough though because of their remoteness and huge open spaces with very little to entertain you – your car could start to feel a bit like a prison on these stretches.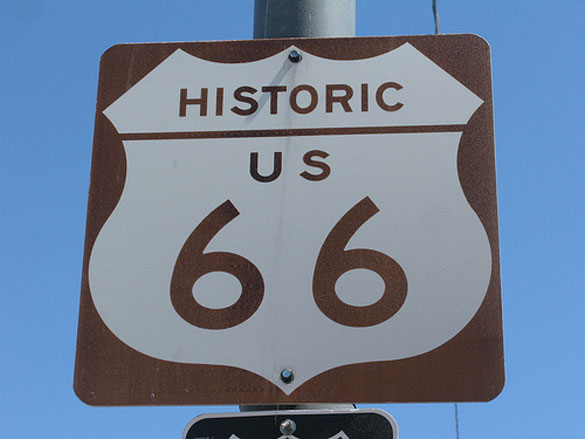 Image Source Flickr
If you want dramatic scenery, driving through the Badlands and heading to Mount Rushmore at Rapid City is a great drive, or you could head out west and take in Bryce Canyon in Utah and then drive towards the coast through Nevada taking in the Grand Canyon and finish in San Francisco – a delightful city. For sea lovers the drive out to Key West provides stunning views and a great opportunity to get up close to the coast.
Of course, when planning your road trip your choice of vehicle is very important. A good thing to do is buy a car on the cheap when you get there, rather than hiring. You could be authentic and pick an American car like a Mustang. However you should take into account the driving you plan to do. If there will be large stretches between towns consider an RV or campervan so that you're less reliant on hotels and motels. This could also save you some cash. Get an old VW van for that genuine free adventure experience.