My second visit to San Francisco turned out to be an unexpected delight. Having visited before I was familiar with the famous attractions of Alcatraz, Fisherman's Wharf and Lombard Street and very Bridge which was too far from the centre to walk to and a bike seemed to be an excellent solution. As I approached the brilliantly named Blazing Saddles I had no idea what I was letting myself in for!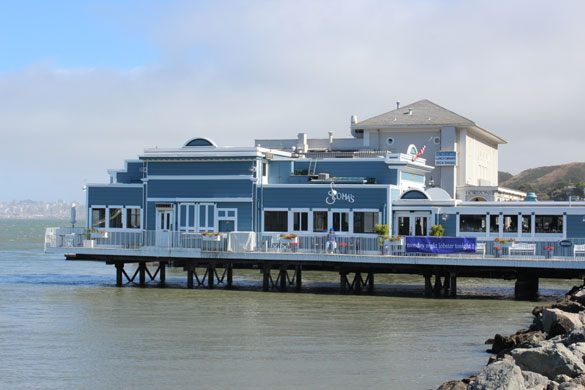 License: Image author owned
Bike Rental
The vehicles on offer were rather swanky Marin mountain bikes. I was handed a map of good routes to cycle including a trip to the Golden Gate and set off with the intention of cycling to and across the bridge and then returning to Blazing Saddles after a couple of hours but things did not work out quite as I had anticipated. I had only been cycling for a few minutes when I found myself on a beach with incredible views of the bay and the bridge. I had not planned for this stopover but took some time out before continuing on my journey. Just a mile further on there was another great viewpoint and an ice cream vendor which obviously necessitated another stop!
The Golden Gate
Following my delicious but wholly unnecessary ice cream I continued towards the Gold Gate Bridge and as I grew closer I began to get a sense of the enormous scale of the structure and the striking colour which apparently is known as International Orange. The burnt orange tones looked wonderful towering over the bay which is flanked by hills with a reddish hue. I cycled up onto the bridge and only then did I get a real feeling for the size of the bridge and indeed the height. The journey across the Golden Gate is amazing and on reaching the other side I paused to take in the magnificent vista spanning the bridge, the bay and the city. At this point I was supposed to return to Blazing Saddles but the day was young and so I decided to carry on for a bit to see what I could find which was rather stupid for someone with my level of fitness as the area is hilly bordering on mountainous!
Sausalito
What I found after a rather arduous climb and descent was the gorgeous bay side town of Sausalito. It was so pretty being built into the hillside with the sparkling waters of the bay lapping gently at the waterfront that I simply had to stop again. Sausalito has some lovely restaurants and interesting shops which I browsed for a bit before deciding to continue. I was now wondering what other delights I might encounter.
Muir Woods
Several miles hence I found myself at the entrance of Muir Woods in Marin County. This astonishing national monument features 250 foot tall Coast Redwoods, California Bay Laurels and Tanbark Oaks in a stunning setting complete with excellent hiking trails. I couldn't turn my back on this natural wonder and so decided to take a walk through the woods without much regard for how long I had been out adventuring. Eventually I forced myself to leave and now faced the prospect of returning to San Francisco and it was only then that it dawned on me how far I had travelled and that returning to the city would involve negotiating the mountains again!
Return
Eventually a rather tired me arrived back at the bike rental station some twelve hours after I had left with the light fading over the bay and a rather curious rental agent asking if I had got lost on my way to the bridge! I explained that my journey had been somewhat longer than expected and my relatively short excursion to the Golden Gate had turned into a 32 mile safari with several stopovers, lunch, an ice cream and a hike in the woods. I was so tired I was nearly asleep on my feet but I had experienced the most marvellous day and saw so many things that I didn't even know were there. Sometimes it is not the obvious tourist attractions that are the best ones!
Currently writing on behalf of National Furniture, Sally Stacey is an entusiastic blogger with a taste for travel.