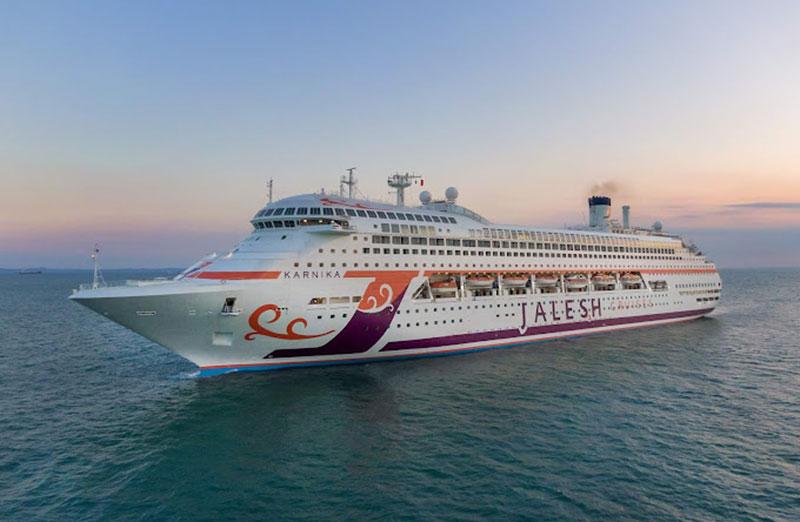 Introduction:
An emerging star in the Indian cruise business, Sea transport there has improved thanks to Jalesh Cruises. Jalesh Cruises is a well-liked choice for anybody seeking a remarkable and opulent vacation since it combines luxury, entertainment, and discovery. Everything you need to know about Jalesh Cruises will be covered in this in-depth guide, including what they have to offer, the ports of call, what life is like onboard, and helpful tips for maximizing your cruise vacation.
The Jalesh Experience: Unveiling the Cruise Line
Before diving into the details, let's familiarize ourselves with what Jalesh Cruises is all about:
A Brief Overview:
The first luxury cruise company in India, Jalesh Cruises, strives to reinvent the cruise experience for Indian tourists. Since its 2019 debut, it has quickly gained popularity for its opulent offerings, first-rate service, and a variety of itineraries that enable you explore both domestic and international locales.
The Fleet:
Jalesh is the owner of the sumptuous cruise ship Karnika, which has a multitude of modern amenities as well as excellent dining and entertainment options.
Destinations and Itineraries
Jalesh Cruises offers a variety of itineraries, catering to different tastes and preferences:
Domestic Cruises:
Mumbai to Goa: This is one of the most popular routes, offering a short but memorable cruise experience, taking you from the vibrant city of Mumbai to the sandy beaches of Goa.
Mumbai to Diu: Explore the beautiful island of Diu, known for its serene beaches and Portuguese heritage.
Mumbai to Lakshadweep: Embark on a journey to the picturesque Lakshadweep islands, featuring crystal-clear waters, coral reefs, and lush greenery.
International Cruises:
There are a number of shore excursions offered from Mumbai to Dubai for the chance to experience the glitz and glamor of this magnificent city.
You may visit Sri Lanka's rich history and culture as well as the lovely city of Colombo on this cruise route from Mumbai to Sri Lanka.
The Onboard Experience: Luxury and Amenities
The elegance and extensive facilities offered by Jalesh Cruises make the voyage as enjoyable as the destinations:
Dining:
From upscale dining to informal restaurants, Jalesh Cruises provides a variety of eating alternatives to suit a variety of preferences. savour a variety of foods, such as Indian, Asian, and foreign fare.
Entertainment:
Theatre Shows: Enjoy live performances, including Broadway-style shows, musicals, and comedy acts in the ship's theater.
Casino: Try your luck in the onboard casino, which offers a variety of games, from slots to card games.
Spa and Wellness: Unwind and rejuvenate in the ship's spa, which offers massages, beauty treatments, and wellness facilities.
Swimming Pools: Lounge by the pool, swim, or simply bask in the sun and enjoy the sea breeze.
Kids and Teens: Jalesh Cruises provides dedicated spaces and activities for children and teenagers, ensuring that everyone has a memorable vacation.
Accommodation:
Jalesh Cruises offers a range of cabin categories to suit different budgets. There is something for everyone, from roomy suites with balconies to small inside staterooms. Modern conveniences are provided in the tastefully decorated rooms to provide a comfortable stay.
Booking Your Jalesh Cruise
Booking a cruise with Jalesh is a straightforward process. Here are the key steps to consider:
Early Booking: To secure the best deals and preferred cabins, it's advisable to book your cruise well in advance. Keep an eye on promotions and special offers that Jalesh Cruises often provides.
Documentation: Ensure you have all the necessary travel documents. For domestic cruises, a valid ID proof will suffice, while international cruises require a passport and any necessary visas. Verify the specific requirements for your selected itinerary.
Travel Insurance: Consider purchasing travel insurance that covers cruise-specific scenarios, such as trip cancellations and medical emergencies.
Planning Your Jalesh Cruise: Tips and Considerations
To make the most of your Jalesh Cruise experience, here are some valuable tips and considerations:
Packing: Pack according to your itinerary, ensuring you have both casual and formal attire, as well as comfortable shoes for onshore excursions.
Shore Excursions: Research the shore excursions available at each destination. Plan your activities and book excursions in advance if possible to ensure availability.
Health and Safety: Familiarize yourself with the cruise line's health and safety protocols, especially in light of the ongoing global health situation.
Currency: Be aware of the currency used in the destinations you'll visit and carry some local currency for small expenses.
Stay Connected: Most cruise ships offer Wi-Fi packages, so you can stay connected with loved ones and share your travel experiences on social media.
Conclusion: Set Sail with Jalesh Cruises
Jalesh Cruises offers a remarkable opportunity to explore incredible destinations in style and luxury. Whether you seek a domestic adventure or an international escape, Jalesh has something for everyone. With world-class amenities, dining, entertainment, and unforgettable experiences at sea, a Jalesh Cruise promises an extraordinary vacation. So, prepare to set sail and embark on an unforgettable journey, where every day is an adventure, every meal a delight, and every sunset a masterpiece. Bon voyage!