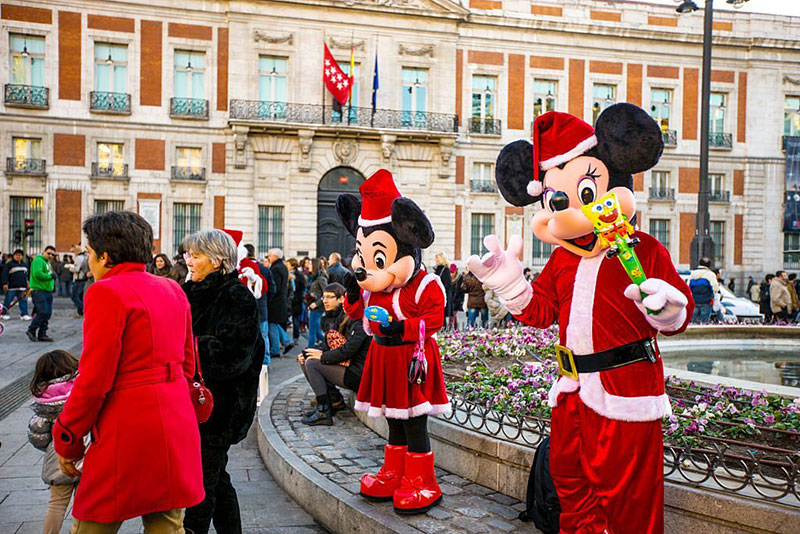 Mickey Christmas: If the stresses of Christmas are getting you down or you simply feel like treating yourself to a break, December is a fabulous time to visit Disneyland Paris. Disney really goes big on the festive cheer with wonderful decorations and extra parades. The parks are a magical place to spend some time in the build-up to Christmas and the benefits don't stop at the festive décor and Christmas cheer.
No Crowds
Whilst Christmas itself is a very busy period at the parks which is probably best avoided, earlier in December visitor numbers are low. You can enjoy all of the rides and attractions without enduring enormous queues and the parks are extensively decorated making the whole place even more stunning than usual. The extra parades throughout the day alleviate queues on the rides further and the park takes on a new dimension when darkness falls as all those beautiful lights come to life.
Great Deals
As visitor numbers are low you can benefit from some spectacular deals at this time of year. Disney can be prohibitively expensive at peak times especially if you stay on site but in December the prices drop considerably. You should be able to grab a hotel package with tickets and breakfast included for as little as £160 per person for a three night stay if you lodge with four people in a room and book in response to special offers. This effectively makes the park tickets free! Compared to the rather eye watering prices for the same properties in the summer months this is an absolute bargain.
The Weather
The weather is naturally a concern in December but even the coldest days should not present an obstacle. Disney seem to get all of their major rides functioning even in near arctic conditions and the queue lines are mostly indoors. I visited the park when the temperature was -10 degrees and yet every ride was operative except the paddle steamer on the lake which was excusable as the lake was frozen! It is necessary to wrap up warm, however, as hours spent walking around and waiting for parades can take their toll. Looking at some of the more clued up European visitors ski wear is a very good idea!
Ride Closures
The only potential downside of a winter visit is the scheduled closure of major attractions. Naturally all rides need yearly maintenance and this is conducted during quiet periods by closing each ride in turn. The closures are advertised well in advance so a quick check online should help you to avoid the days when your favourite rides are closed.
Shopping
A pre-Christmas visit also presents a great opportunity to do your Christmas shopping. Disneyland Paris has many wonderful shops both in the parks and the Disney Village outside the parks and there is a shopping mall and factory outlet mall on the site too. You should be able to grab some wonderful gifts for family and friends whilst enjoying a wonderful short break. If you don't find everything you need at Disney you can always hop on the train and explore the opportunities in Paris too!
All in all December is a wonderful time to visit Disneyland Paris. The prices are low the queues are short and there are extra attractions to enjoy. Just make sure you wrap up warm!
Sally Stacey is a keen writer and frequent traveler. She had made several winter visits for Mickey Christmas to Disneyland Paris and found December to be a great month to see the parks. Share your view on "A Very Mickey Christmas" in the comment section below.