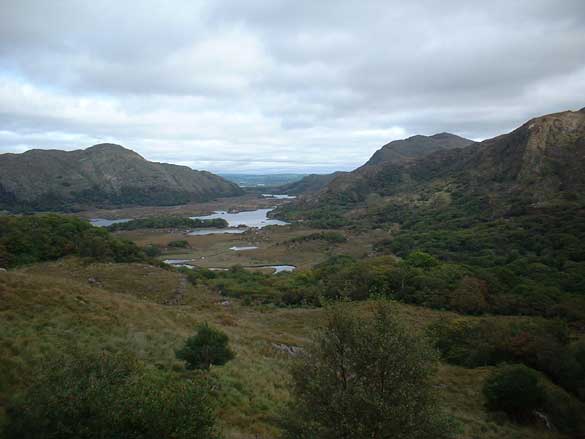 License: Image author owned
It's estimated that over six million foreign tourists visit Ireland each year, making the country one of Europe's most popular holiday locations. In fact, according to some sources, Dublin is Europe's fourth most popular tourist city, being beaten by only Paris, London and Rome.
It's no real surprise either, with the magnificent hisory that Ireland has, combined with the booming modern metropolis it has now become, it offers the best of both worlds for the traveller looking for old and new. From Blarney Castle, constructed in 1466 under the reign of King Desmond and home to the legendary Blarney Stone to the amazing modern collection of buildings and bridges along the side of the Liffey, there is a great deal to see here! It's not just buildings either, Ireland is home to some of the best walking trails and most beautiful countryside anywhere in the world. Famed for it's rolling green hills and picturesque villages, it's great for outdoor enthusiasts, and whatever you choose it can all be topped off with a pint (or two!) of the world famous black stuff – the mighty Guinness of course!
When it comes to travelling to Ireland, foreign tourists have two options – to go by boat or go by plane. The cost of travel will vary considerably depending on the airline or shipping line used. Tourists can opt for budget, no thrills travel, as many people do these days, or splash out on a bit more luxury. Direct flights to Dublin can be caught from across Europe and other parts of the world, both first class and budget. If travelling by ship, however, the price is a little more equal. The cost of a ticket varies only slightly, unless you choose first class, but obviously takes significantly longer
If you are travelling from the UK you will be particularly spoilt for choice, with flights to Dublin departing from every one of London's six major airports. A further 40 flights a day leave from other UK airports. Travel by boat is not a time-efficient option, unless you're leaving from Britain or France. Ferries to Ireland sail from:
Cherbourg
Roscoff
Le Havre (in France), and
Pembroke
Fishguard
Holyhead (in Wales), and
Liverpool in England.
Boats cater for both roll-on-roll-off car passengers and walk-on-walk-off foot passengers. Whatever method of transport is chosen, visitors to Ireland can look forward to a hassle free experience. Travellers from Britain can expect a particularly easy arrival and departure thanks to the Common Travel Area. This agreement has reduced border controls between the countries to a bare minimum. However, visitors from Britain would be well advised to check the specific requirements of their shipping line or airline.
Ireland is not part of the Schengen Agreement, which means visitors from the Europe Union are required to carry passports when entering the country, but border controls are relaxed and friendly. Travellers from the United States can also expect a relaxed experience. In fact, Ireland hosts the only two European airports that have a US border preclearance service, making the return trip home quick and easy.
Jan is a proud Dubliner working at the Sandymount Hotel, Dublin. She loves both the city and country where she lives, and is keen for as many people to experience it as possible!