Visiting Beautiful Toronto City: What You Need to Know
Located in the Southwestern shore of Lake Ontario, Toronto city manages to attract millions of tourists every year. It is recognized as one of the most popular tourist destinations of the world. So if you are planning the next vacation to the beautiful city of Toronto, you need to be well aware about the exciting things which will make your holiday memorable forever. Well, here I have provided a list of things that you must do while on a vacation in Toronto; indulge in the wonders of the historic city and get ready to explore Nature at its best –
Take a bird's eye view of the city from CN tower – The most famous landmark of Toronto as well as Canada, the Canadian National Tower is an easy way to reach the sky. To get a stunning view of the entire city while enjoying some delicious world cuisine book table at the roof lounges of the different renowned restaurants.
Get sprinkled at Niagara Falls – Whether you are on a holiday or a business tour this is something that you just can't afford to miss out. Only at a 90 minute drive from Toronto watching the 750,000 gallons water falling down from a height of 125 feet is a real treat for the visitors. The experience becomes even more awesome when seen from the top – standing at a certain distance from the edge on the table rock site. If you want to get even more thrill book a ride in the Niagara Helicopters, over the falls.
Wander through the Toronto Islands – Accessible only be ferry, this car free urban zone of Canada includes a public park and a children's park. Take long walks or a cycle trip through the beachside trails, visit the most famous High Park, located at the west of the Downtown, enjoy watching the birds of different species in the seabird sanctuary, take out your binocular and get the charm of the forested urban parks to the fullest.
Climb some of the most famous and wonderful stairs of the world – Toronto is home to some of the historical cities of the world, constructed by the celebrity architects of the world. These include the stunning wondrous stairs of the Royal Ontario Museum, designed by Daniel Libeskind connecting the historic wings to it, the dramatic staircase of the Art Gallery of Ontario, rising through a glass ceiling from the second to the fifth floor etc.
Taste the different cuisines of the world – Since almost half of the population of Canada belong to the outer world, you will find a Greektown, a Chinatown, a little Italy and various other communities from the different corners of the world including Jamaica, Poland, Portugal etc residing in Toronto. So whether you are a foodie or not, don't miss this chance to taste the different cuisines of the world, all at a single place.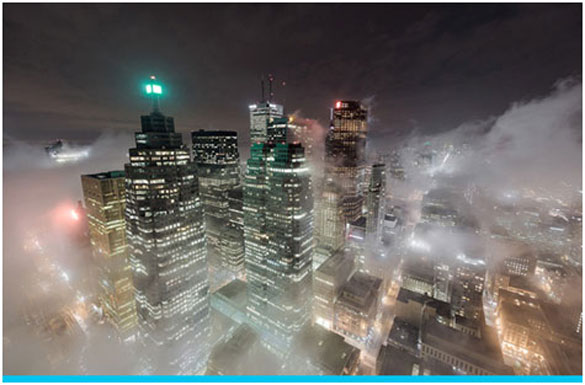 Toronto City
So you might be wondering about how to enjoy so many exciting activities within the short period of your vacation. Don't worry; you will find very well organized transport system in Toronto which will help you to roam about the city smoothly. But if you want to enjoy the trip according to your own preferences, hire a car from the services of car rental at the airport of Toronto.
Author Bio: Adam Wilson is a writer and blogger. He also writes for a reputed car rental company in Brampton (www.xceedcarrentals.com). In this article he describes the beauty of Toronto City.