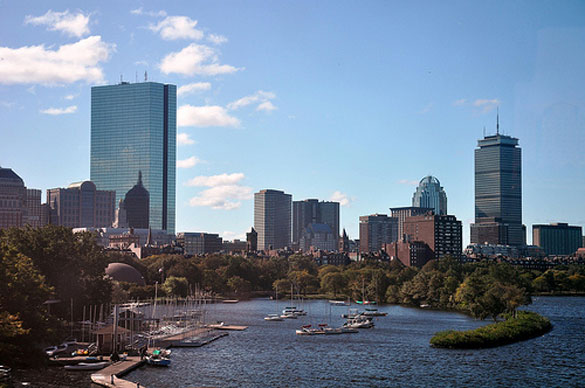 License: Creative Commons image source
Coming from the Irish, beer drinking, sports loving city that is Boston, Massachusetts and making the move out the way out the Mormon capital of the world, Salt Lake City, Utah was a complete change. Even the streets are wider than streets I have seen anywhere else in the country. From an outsider looking in on Salt Lake City it really seems as if these are some weird people with some very weird ways. I had never met a Mormon before in my life and then all of a sudden I was a minority. After living her for four years and going through the growing pains I have actually come to enjoy every day I spend here. Salt Lake City is definitely a place where you need to find your niche but when you do find it you will not want to leave. Trust me. Yes, Salt Lake City does have its massive population of Mormons. After they were kicked out of Vermont, then New York and then Illinois they finally move far enough west and settled in Utah where no one would bother them. When they settled in the Salt Lake valley all they saw was a three hundred and sixty degree view of mountains and no one else around. So they set up shop. Little did they know they were sitting on a gold mine tourist attraction, the mountains.
What to Do?
Skiing in the Wasatch Mountains is like nowhere else in the world. Spending late nights at the bars in Park City you will probably meet people from five to eight different countries if you put enough alcohol into your system and make some friends. And most of the people from outside the country are from Europe where you would think they would stay.  But they still say Utah has the best skiing on earth. And yes I did say there are bars and people drinking in the state of Utah. With the large Mormon population it is almost essential to go to the bars if you want to meet people that share your same interests.  The non-Mormon population has a rebellious mentality when it comes to alcohol as well.
The Drinking Obsession
We purposely go out of our way to drink heavily under the lights of the Mormon temple in downtown Salt Lake City.  A fun fact you can tell all of your friends is that Utah was the state that signed the document as number 36 to end prohibition in the United States and ratify the 21st Amendment. After the Mormons came thousands of miners came to Utah looking for gold while the gold rush was going on in California. They were from back east and still wanted to drink their alcohol after a hard day's work in the mine. This was the platform for the love of alcohol in the state of Utah. Dozens of micro-breweries have sprung up all over and produce some of the best beer you will find anywhere. I think we believe Mormons still run Salt lake City because you can easily pick them out of a crowd. But with that said, who else is usually in the crowd if you can pick out a Mormon. The Catholics now have a percentage majority in Salt Lake City. Would You believe that? Idaho now has the most Mormons in it out of any state. Per capita, Las Vegas now has the highest number of Mormons as well. With all their drunken antics the Catholics have managed to drive out the Mormons.  I proudly include myself into that.
Other Attractions
With the brand new Energy Solutions Arena downtown for the Jazz to play in we now have a great sports venue to watch a great sports team. Major recording artists also play there on a regular basis which means more good times in downtown Salt Lake. One thing I have really noticed is that Salt Lake City has some of the best dining you will find anywhere. With a much smaller population in the city than most, restaurateurs must run a great business to keep their heads above water. Between the great restaurants and the great bars, a great night out on the town is not hard to come by. Salt Lake City is so much more than outsiders think it to be. It offers everything from an NBA basketball team to great bars and restaurants to great people. Once you spend some time here and go outside of yourself you really will find a home. If a kid from Boston can do it, anyone can.
By Brian Connor Brian Connor has written for many travel and leisure blogs. He wants to make people aware of the many great places they can travel to. Superior's furnace repair in SLC is another great local business that travelers can look into.