There are plenty of reasons you should plan your next vacation in Southern Idaho. The wide variety of interesting landscapes and landmarks, including Shoshone Falls and the Oregon Trail, is just one reason. The nearly limitless recreational activities at your disposal (biking, climbing, cliff-jumping, etc.) is another. Combined with the beautiful simplicity of the Idahoan lifestyle and the exhilarating effects of nature, your vacation is guaranteed to be well spent here.
But how much would it take to convince you to extend your vacation… indefinitely?
Besides the wonderful small-town vibe and personable, friendly people, there are more and more statistics emerging that prove Southern Idaho is a smart place to live today. Others have realized it as well; Southern Idaho contains some of the fastest-growing cities in the US. Here are some reasons to jump on the band wagon now.
Cost of Living
Big cities definitely have their perks, but the insane price of living expenses there is enough "con" for most people. In Southern Idaho you have the option of living a decent distance between two major cities (Boise and Salt Lake City), with an affordable rent or mortgage payment. Twin Falls has 10.7% lower cost of living than the national average. You may want to take a good look at where you live today, and measure the cost and the worth.
Housing Market
Home appreciation is up 1.13% in cities around Southern Idaho. The median cost of a home is $135,000, and continues to rise. There are many old homes in these cities, but the growth is spurring construction of many new homes. There are those who choose Southern Idaho (especially Sun Valley) for their retirement, others for second vacation homes. But if you're looking to become a homeowner, you have to choose your location wisely. Southern Idaho is a good bet for most any person who is looking to be careful in today's economy, but still achieve the quality of life they wish for their family.
Business Owners
Idaho was one of four states that was recently given the highest grade of an "A+" for its business-friendly environment by Forbes magazine. This was based on its easy regulations and low taxes, as well as the abundance of hirable employees. If you're a business owner, or looking to become one, this is the place to be. Today, more than ever, a commercial real estate loan is affordable and will be a worthwhile investment in such a helpful business community. The world is slowly looking up for the small business owner, and Idaho is at the top.
Commute
For those who will depend on the bigger cities for work, the traffic situation in Southern Idaho is enough to praise the heavens for. With wide highways and a relatively low population, the flow of traffic remains almost constantly circulating. The average commute time is 17 minutes, compared to the national average of 28. Based on personal experience, the low traffic in Idaho is enough for most previous big-city dwellers to vow never to go back again.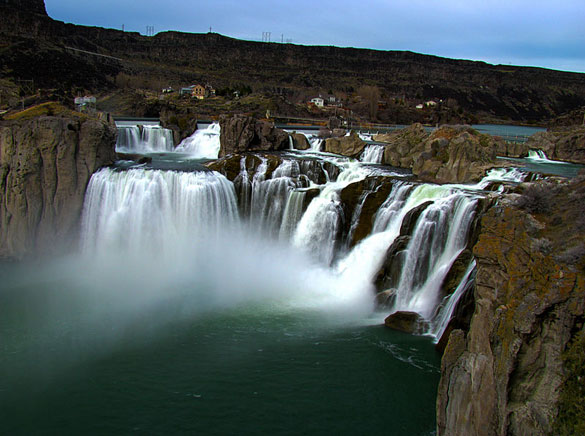 Shoshone Falls in south central Idaho. Image source Wikipedia
Crime Rate
While the small-town environment does pose a small drug-usage problem, the crime rate in Southern Idaho cities is extremely low. Violent crime is well below the national median (2.69 compared to 3.9), and property crime is well under control. Compared with cities to the north like Boise, which has had gang-related crimes rise significantly in the last few years, Southern Idaho remains a tranquil environment perfect for the family and the peaceful individual.
Depending on your needs and status in life, Idaho might be the answer to your problems. It's the perfect place for new beginnings, and sustaining a life rich in beauty, simplicity, and peace. There's a reason so many families have lived there for generations, and continue to carry on their family name in the small towns. Who knows, perhaps your family will join the club next?
Michael David is a freelance journalist and blogger living in New York City. Michael loves writing about DIY projects, home improvement, and garden-related topics. For more on commercial real estate loans in the Idaho area, visit Emerald Creek Capital online.