Traveling In North Carolina: North Carolina is a wonderful place to travel for many reasons. The most notable reason is that on the same tank of gas you can make it from the alluring North Carolina Outer Banks to the beautiful Blue Ridge Mountains and Great Smokey Mountains. There are many exciting activities and family friendly destinations at both of these locations.
North Carolina Outer Banks
The Outer Banks of North Carolina encompasses many places from the northern beaches of Kitty Hawk and Nags Head to Roanoke and Hatteras Islands. Some of these areas are rich in history and many feature a myriad of exciting activities and things to do, even year-round.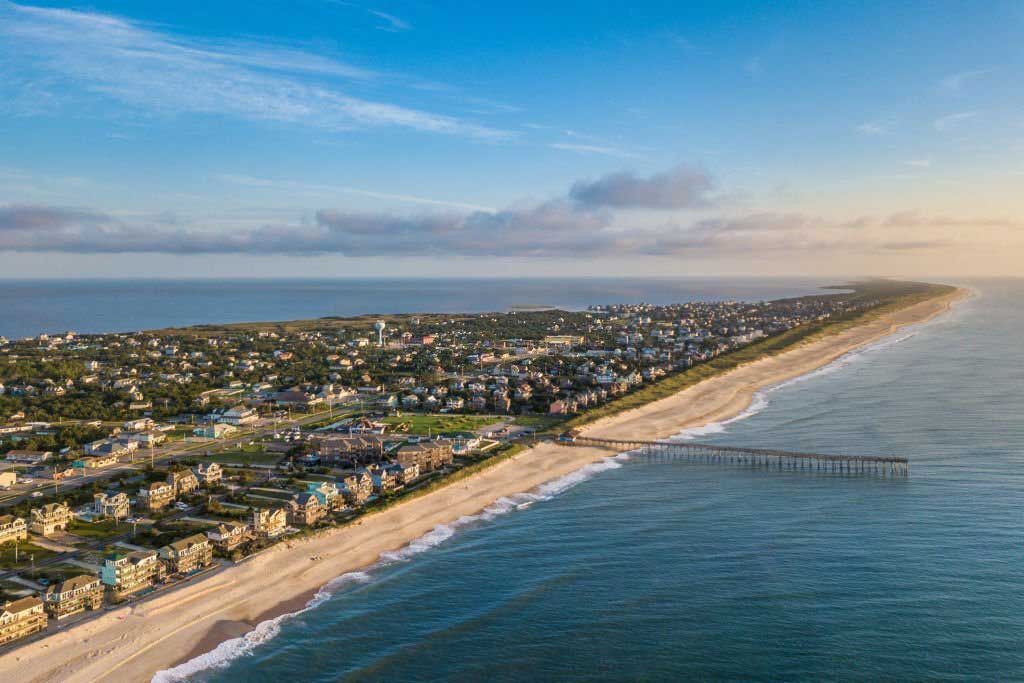 Some of the activities that are available at the beaches of the Outer Banks are hard to find elsewhere. Some of the locations here, Cape Hatteras National Seashore for instance, allow visitors to drive their off-road vehicles on the beach. Personal watercrafts such as jet skis are also allowed at some of the beaches, but there are many rules and regulations that need to be followed. Many of the beaches even allow pets to enjoy themselves in the sun and the sand, as well.
There are numerous other activities to be enjoyed at the coast of North Carolina. These include fishing, diving, lighthouse tours, museums, kayaking, theaters, and trail walking. There are many historical sites to visit as well, such as the Fort Raleigh National Historic Site, and the Civil War Trail. In addition to all of the geographically specific locations of note, the area is teeming with an abundance of casual and fine dining establishments as well as many shopping outlets.
North Carolina Mountains
On the western and opposite end of North Carolina are the gorgeous North Carolina mountains. There are many adventures to be had here, including an amazing nightlife, arts, trails, whitewater rafting, horseback riding, and lots of wildlife.
For the outdoor enthusiast, life could hardly get better than the mountains of North Carolina. There is an abundance of campgrounds sprawled about in any kind of mountain terrain you could imagine. There are many campgrounds close to lakes and rivers for those who enjoy fishing. Wherever one chooses to camp, it's always within reach of wildlife and hiking trails. Horseback riding and North Carolina's famous mountain whitewater rafting locations also tend to be close by.
In the same spirit as the Outer Banks of North Carolina, the mountains here also offer many unique attractions that are hard to find elsewhere. Zipline Canopy Tours are offered in Bryson City. Visitors and guests here are granted a chance to see North Carolina in a very unique light by viewing it from the treetops of oaks that are over 150 years old. This coupled with such things as trolley tours and drum circles that are found in the area make for very exciting and unique experiences.
The Great Smokey Mountains is home to an amazing array of wildlife. Many larger animals are often spotted here, such as coyotes, elk, and even bears. There are many wildlife refuges and zoos in the area where families can go to view and learn all about the wildlife in the area.
When one finds it hard to decide on one outdoor destination in particular, North Carolina seems the perfect choice for travel. From the mountains to the coast, this location is the best of both worlds.
This article was written by Kevin Caldwell an avid traveler who enjoys sharing his knowledge and experience with others. Hope you love reading "Traveling In North Carolina". Share your view in the comment section below.