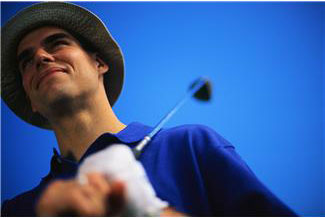 License: Royalty Free or iStock source

No matter how much you love the golf at your local club, getting away and playing on a new course can be a breath of fresh air. Not only that, but you'll also get to stay in a fantastic location. And the USA is one of the greatest golf locations of them all. Not will you find world class courses, but big skies, big cars, and a big American welcome. So for a luxury golfing holiday you won't forget, read on for a guide to the best three resorts in North America. You might need to save your pennies for a trip to one of these meccas, but these courses provide a golfing experience you'll never regret.
Pebble Beach, Monterey County, California
Rated by Golf Digest as number one in their list of the best American golf courses, Pebble Beach is a truly remarkable resort. Situated right next to the pacific on the stunning West Coast in California, Pebble Beach comprises four world class golf courses; Spanish Bay, Spyglass Hill, the Pebble Beach Links and The Del Monte Course, each with their own unique character and challenges, overlooking the ocean. Play here, and you'll be joining the illustrious ranks of famous visitors, Clint Eastwood, Tiger Woods, Bing Crosby, Teddy Roosevelt, and even Winston Churchill. It's not cheap, room rates start at $615 dollars, but this works out at £405.10 in GBP if you're a Brit. For a trip of a lifetime, then it's got to be worth it.
Pinehurst Golf Resort, North Carolina
Playing at Pinehurst is considered a pilgrimage by most golfers. Sitting beneath the big skies of Carolina, the eight unique golf courses are the home of American golf, set amongst 5000 acres of pine peppered parkland. Course number two, designed by Donald Ross is regarded as legendary, having been the site of more golfing championships than any other course in the US. Stay in the historic Carolina Hotel, the Boutique Holly Inn, or self-cater in one of the on-site villa's or condo's.  You can even rent a set of Titleist clubs for $75 a day, so there's no need to even lug your favourite Taylormade Rocket (Iron or Club) from home. Prices start at around $248 per person for an overnight stay and play.
Bandon Dunes, Oregon
Made up of five distinctive courses, Bandon Dunes, Pacific Dunes, Bandon Trails, Old McDonald, and Bandon Preserve, this resort combines award winning courses with incredible natural links true to their Scottish heritage. On the rugged coastline of the Pacific Ocean, playing against the wind amidst massive sand dunes and swaying pines, here is where you will experience a round in its rawest state. In the evenings you can recover yourself in a secluded forest lodge or cabin, or book into a room at The Inn or The Lodge. You'll also be spoilt for choice for places to eat and drink. Prices start at around $210 per night.
Rob Rudd is an active blogger for many different sites, covering topics from golf and travel to family and parenting.