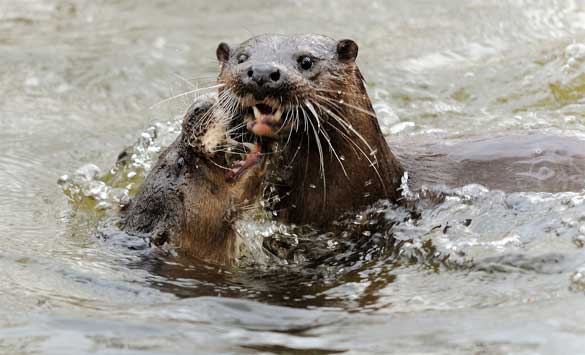 Photo Credit: Amy Lewis
Norfolk has a unique and diverse combination of wildlife habitats that have earned it the unofficial title of "Birdwatching Capital of Britain". It is therefore unsurprising that the BBC have regularly chosen a location in Norfolk to host the popular "Springwatch" programme, as a wide variety of wildlife can be seen in this area.
Habitats:
The reason for the rich diversity of wildlife in Norfolk is due to the many different habitats that make up the area. The most well known, perhaps, are the Norfolk Broads, a network of waterways that were created by flooding on ancient areas of peat excavation. This habitat is unique to Norfolk and hosts certain types of wildlife that are scarce elsewhere in the UK.
Another important habitat is the coast, which is made up of a mix of marshland, mudflats, freshwater pools and sand dunes. The coastal areas are an important wintering ground for geese and wildfowl.
Norfolk is also known for its fens, which are currently subject to a Biodiversity Action Plan. These important areas are home to over 250 species of plants, including orchids that can be found nowhere else in Britain.
Wildlife:
The broads and fens are home to the elusive bittern, which is one of the rarest birds in the UK. It hides in the reed beds and can be distinguished by its characteristic booming call. Birdwatchers in Norfolk may be lucky enough to see kingfishers, marsh harriers, egrets and cranes when visiting the broads.
The rare and beautiful swallowtail butterfly is thriving in Norfolk, thanks to the careful management of the fenland where it lives. The butterfly is exclusive to Norfolk, where it lays its eggs on the milk parsley plant.
Norfolk is home to a variety of unusual mammals, such as the exotic Chinese Water deer, Muntjack, and Harbour Porpoise. More familiar mammals, including foxes, badgers, hedgehogs and otters can also be seen.
The plant-life of Norfolk is beautiful and diverse. Many interesting plants grow amongst Norfolk's sand dunes, including the unmistakable Bee Orchid. Species such as the delicate Yellow-horned poppy grow on the shingle beaches, where they are a protected species.
Enjoy the Wildlife of Norfolk:
Norfolk is a popular destination for wildlife enthusiasts because of its biodiversity. Birdwatchers, photographers and enthusiasts, both amateur and professional, flock to the Broads, fens, ancient woodland and coast in order to catch a glimpse of elusive wildlife that can be seen nowhere else in the world.
Norfolk truly is a special place; a network of diverse habitats endowed with a wealth on species. Norfolk has been described as a "Living Landscape", home to some of the most important wildlife sites in the UK. Many reserves have been selected as sites of Special Scientific Interest, as experts still have much to learn about the species that inhabit this unique area.
Norfolk is home to an exceptional selection of birds, mammals, amphibians, insects and plants. Therefore, a trip to Norfolk should on the "to-do" list of every wildlife enthusiast in the UK.
Colin is writing on behalf of Holiday Lodges provider www.waveneyrivercentre.co.uk