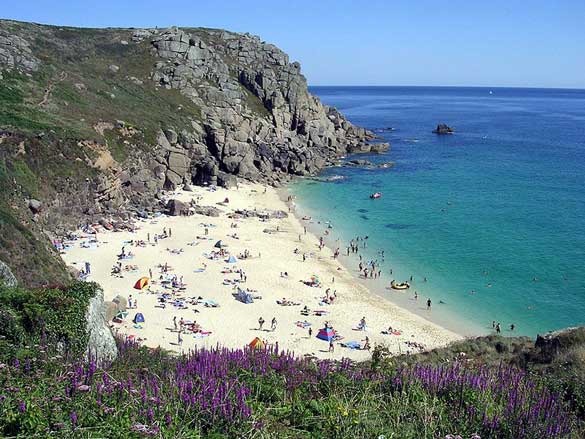 License: Creative Commons image source
If, like an increasing number of us, you have decided to stay in the UK for your holiday this year, you're probably feeling a bit overwhelmed by the different options available to you. One of the eternally popular destinations for holidays is the south-west of England, and Cornwall in particular.
Weather
Great weather is never guaranteed when you are holidaying in the UK, but Cornwall often gets the best of whatever weather we're having. The record temperature for the region is a blistering 35.4C in August 1990, but in general the temperatures in Cornwall compare favourably to elsewhere in the UK. As many people spend their Cornish holidays on the beach, an onshore breeze can make the temperatures feel a little cooler, and if you are going to be doing lots of watersports, a wetsuit would be a sensible investment as the sea temperature never gets above 18C.
Beaches
One of the main attractions in Cornwall for a family holiday is the beautiful beaches, which are some of the best in England. Many are "blue flag" beaches, meaning they have won awards for water quality and cleanliness. In the summer months, many beaches are patrolled by life guards and you should always follow their directions about where to swim and where to avoid as there can be strong currents. Sandcastle building, kite flying and rock pooling are also essential parts of a Cornish holiday, and if you've forgotten your bucket and spade there is no shortage of places to pick up a new one.
Accommodation
There is a huge variety of different accommodation in Cornwall, but the sheer choice can make it difficult to choose from the hotels, guesthouses, self-catering cottages, caravans and camp sites which are on offer. Start your research early as some of the good places are fully booked for the peak periods as far as a year ahead. If you can be flexible about your visit and can avoid the school holiday periods, you might be able to get a real bargain if you're prepared to wait until the last minute to book.
Getting Active
Being in Cornwall is all about getting out into the glorious countryside and there is a huge array of sports and activities to take part in. If you've always wanted to gallop along a beach at sunrise, pull on your hunt breeches and get along to a pony trekking centre. Surfing is popular at beaches all along the north coast, especially at Newquay, where you can take your pick of the surf schools offering beginner lessons or week-long courses to teach you all the basics. Everything and anything is available, from the traditional sports such as golf or bowls to something a bit more high-adrenaline like mountain biking, kite surfing or climbing. Do a bit of research before you go, or ask the local tourist office to point you in the right direction once you arrive. Just don't overindulge in the delicious Cornish cream teas, or you'll have no hope getting into the hunt breeches or the wetsuit.
Morag P is a mother and a blogger on a wide range of subjects including travel, music and family. If you want to find out more, Morag Peers has a Google+ account.