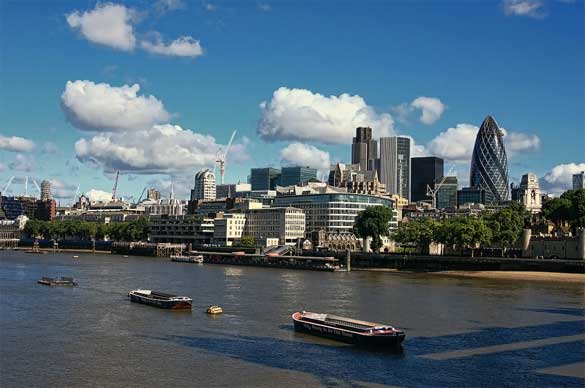 London City – Photo © Ferda Hejl
Tourists visiting London for the first time usually expect to get lost. The city centre is vast and it can be easy to get confused whilst navigating your way around such a big city for the very first time.
If you get lost
If you get lost, there is no need to be concerned, you can find free maps or full A-Z maps to hand all across the city centre. Maps can be picked up in Tube stations, train stations, tourist information centres and views on the side of bus stops. No matter how far off track you go, you can always find your way. Local policemen are usually happy to help out and give directions if they are not preoccupied.
Getting around on the Tube
The London Underground, also known as the Tube is one of the cheapest, fastest ways to get around the centre of London. You will notice that there are Tube stops on street corners all over the city centre, making it very easy to get from one landmark to another. There are 260 Tube stations around the city centre, so wherever you are heading, it is likely that you can get there on the Tube.
If you have planned to spend your day in London travelling around on the Tube, be sure to get a day ticket for the zones that you will be covering. Day passes work out far cheaper than buying single tickets for every journey.
If you are planning to stay in London for a week, there are 7 day passes which offer amazing discounts, particularly if you use it every day. If you were to buy seven daily passes instead of paying for a single 7 day pass, you would find yourself paying almost double the price.
There are plenty of discounts available of the Tube so be sure to bring any relevant card with you. Anyone with an apprenticeship card, Freedom Pass, Jobcentre Plus card, National Railcard or 60+ London card can get discount. Discount is also available for veterans.
One important rule on the Tube
One key rule in Tube stations which first time visitors learn the hard way is "keep to the right". When travelling on an escalator going in or out of a Tube station, all pedestrians who want to stand on the escalator must keep to the right hand side. All pedestrians walking up the escalator will be quickly walking up the left hand side. Non Londoners often make the mistake of blocking the path down the left hand side which can cause a busy Londoner to become extremely disgruntled!
Getting around by taxi
Another popular mode of transport in London is taxis. There are two main types of London taxis, as there are in most major cities. Black cabs, also known as hackney carriages do not need to be booked. They can be flagged down on a street or found waiting at designated taxi ranks. Black cabs are always more expensive due to the fact that they are not pre-booked, but they are extremely convenient for quickly getting from A to B. Minicabs are a far more cost effective way to travel but you will need to pre-book in advance.
Victoria O'Donnell is a renowned author and expert in all things London related. Victoria often visits www.thamescruise.co.uk to get that latest available dates for River Thames cruises.