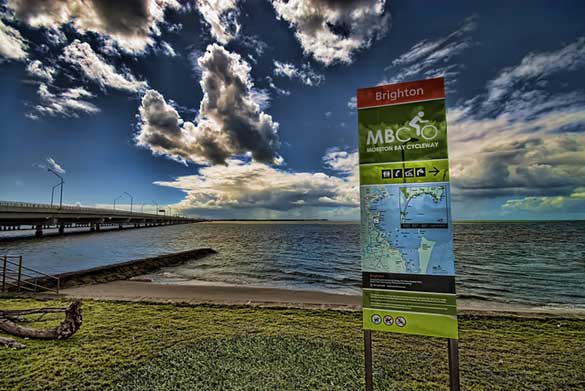 License: Creative Commons image source
While many people seek sunnier shores when the summer months hit, a growing number are becoming worried about the ecological impact their decision will have. Emissions related to flying can rise to 1.46 tonnes on trips to the US and the Caribbean. With that in mind, many people now choose to remain in the UK for their holidays, with Brighton being a particular favourite destination. Why? The city's wide variety of things to see, as well as the great eco-friendly attractions in the area, make it a brilliant place to visit for the earth conscious visitor.
Experience Variety
A visit to Brighton acts as the perfect chance to enjoy a multitude of cultures; all on the quintessentially British coast. With the city hosting a wide variety of quirky cuisines and endless boutique shops, it is a far cry from many other UK destinations. In Brighton and Hove, there are 98 parks waiting to be explored. This includes the Royal Pavilion Gardens, which rests outside the British Isles' most exotic house. For those who are willing to venture outside of the Brighton city area, the Sussex countryside is vast. The nearby South Downs have recently been given national park status, and there are plenty of cycling and hiking tracks there to enjoy. The traditional bluebell woods just outside nearby Arundel are not only an eco-friendly attraction, they also support multiple charities.
In The Area
If you are enticed by the British coastline, and would like to see more if it, you can visit Bournemouth along the coast, you will be opening yourself up to a quieter world of eco-friendly attractions, with many more still developing. Bournemouth is home to one of Britain's oldest piers, which dates back to the beginning of the 19th century. Across Bournemouth, there are seven miles of award winning beaches waiting to be enjoyed. In addition to this, Bournemouth is well-known for having its own micro-climate. This means visitors can head there and look forward to sunnier conditions than other parks of the UK. No matter what time of year visitors head to Bournemouth, they can still enjoy many of the walks available in the locality. The Stream, Heath and Woodland walk is particularly well-known for its mystical qualities during the autumn season, which makes it a hit with families.
With two of the UK's greatest coastal areas offering such exciting opportunities to enjoy an eco-friendly break, is flying around the world to enjoy the sunshine really justifiable? As Bournemouth even offers its own micro-climate, it appears that there are more secret opportunities to enjoy a sunny UK break than many people think. Such breaks are often cheaper, they are more flexible in terms of travel, and they do not harm the environment as much as a break abroad. And with Brighton offering a cosmopolitan vibe alongside classic British attractions, it acts as the perfect place to go on a UK holiday. Trying to find a hotel nearby is never challenging, as it is a British tourist destination filled with accommodation options.
Cal Vinter is a Brighton native. When he's not sunning himself on the beach during the admittedly short British summer, he freelances for a digital agency on travel related topics.