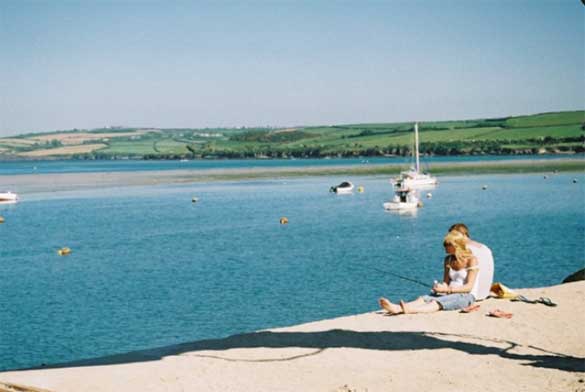 Photo © Cheri Herbert
There's nothing nicer than heading off for a long weekend away in the countryside or by the sea – even better if it is with a loved one. If you're planning a trip away but can't quite decide on a location, then how about considering a few days in Cornwall? With its majestic coastal stretches, history, wonderful fresh produce and art, it truly is one of England's most beautiful counties. Have a look below for some details that might whet your appetite.
Getting there and back
There is no getting away from the fact that Cornwall, thanks to its location right at the bottom of the south-west of England, is pretty hard to get to from most areas of the UK. If you're coming from London then the chances are you're talking a good five hours to get from the centre of town to the tip of the county in Penzance. From central Manchester you're looking at more like seven hours. Flying is one way of slashing the journey time and the good news is that there are cheap flights available from many airports in the UK these days, making it simple for UK residents and overseas visitors to pick up a domestic flight to Cornwall. It's also worth remembering that the fact Cornwall is quite such a distance does add to the occasion – getting there takes some planning and effort, which won't go unnoticed if you're organising a romantic break.
Stolen kisses in the surf   
Cornwall's coastline is one of the main things that brings visitors back to this part of the UK time and again. Whether you love wildlife, relaxing on sandy beaches, surfing or just fancy the idea of a romantic stroll in the surf then you will not be disappointed. There are so many destinations to choose from that you'll be spoilt for choice. Consider a trip to Newquay if you're keen to take a surfing lesson, or maybe you'd like to take in a stretch of the South West Coast Path. Enjoy some locally-caught haddock at Stein's Fish & Chips during an evening in Padstow or maybe walk off a meal with a stroll along the quay.
A love that lasts
Tales of romance and chivalry go hand in hand and there is nowhere better to discover stories of lovers from the past than at Tintagel Castle in Cornwall. The windswept ruins of this ancient site, said to be the birthplace of King Arthur, are a sight to behold and were voted the most romantic site owned by English Heritage in a Facebook poll from 2011. Alternatively, pay a visit to St Michael's Mount in Mount's Bay to see the sea-bound medieval church and castle that has called to pilgrims across the ages.
What Cornwall offers simply can't be reproduced. A place of history and immense natural beauty, it also has plenty of fine accommodation and dining opportunities. Make the journey to Cornwall as a couple for a honeymoon, anniversary or simply as part of a weekend getaway and you won't be disappointed.
Guest post contributed by Lauren Arnold, a avid traveler around the UK & experienced in finding the best holiday spots close to home, whether its in Scotland, Ireland, England or Wales, Lauren will find the best spots, particularly enjoys Cornwall things to do there are great!