When a couple is expecting a child, relaxing and enjoying each other's company until the big arrival is critical. Doctors state that flying is safe for expectant mothers in their second trimester, so international trips are possible. As you read this article, you'll learn about five of the hottest babymoon destinations in 2013.
Cabo San Lucas, Mexico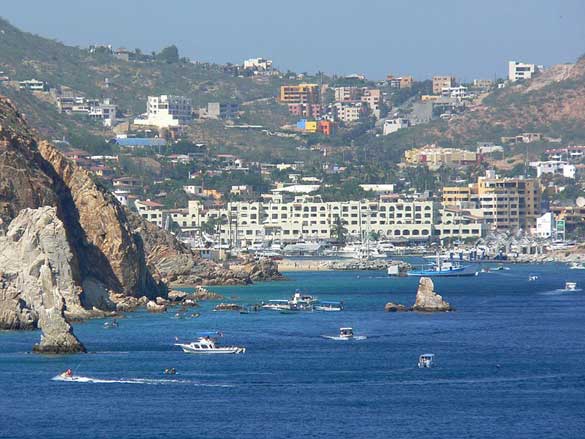 Image source wikipedia
Cabo San Lucas is full of resorts that cater to tourists and offer highly rated services and packages. Most resorts in Mexico contain spas, ideal for ultimate relaxation with your partner. Many Mexican resorts are beach-side, offering an unbeatable view of the ocean. After a massage you can admire the beautiful horizon, allowing you and your partner to unwind in the evening while enjoying the calming sound of the waves.
Surrey, England
Surrey is another wonderful babymoon destination to be considered. Surrey offers rustic charm for couples that enjoy the lush greenery of the countryside. Surrey is also home to the Grayshott Spa Hotel, perfect for couples that want to learn more about health and get pampered. Spa services include: facials, massages, aromatherapy, acupuncture, nutritional evaluations and more.
Jamaica
The beautifully exotic Jamaica is a hot spot for babymoons because it is rich in culture and exquisite food. Jamaica has several all-inclusive resorts with pools, gyms, restaurants and more, making it an appealing spot for couples that are expecting. The restaurants located in Jamaican resorts showcase the finest Jamaican cuisine. Some of the most popular dishes featured at many Jamaican resorts include: jerk chicken, callaloo, fish and coconut stew, corned beef, curried goat, chicken foot soup and more.
Bali, Indonesia
Bali is full of unique animals, historical landmarks and magnificent architecture, proving to be another top contender for babymoon destinations. Beaches lined with palm trees and remarkable wildlife are just two of Bali's biggest attractions for babymooners. The Bali Zoo is a lovely spot to take a leisurely stroll while observing and interacting with a diverse selection of wildlife. Animals found at the zoo include: bengal tigers, maroon leaf monkeys, camels, sun bears, parakeets, peacocks, crocodiles and more. This zoo provides an educational and memorable experience for your babymoon.
Port Douglas, Australia
With all the exotic destinations to choose from, it's essential not to forget about closer locations for your babymoon like Port Douglas. The Sheraton Mirage has gained popularity for babymoons because of its truly top-of-the-line accommodation. This hotel has romantic beaches, a breathtaking golf course, a sauna and an impressive garden. The Sheraton Mirage genuinely offers something for every couple, whether you want to admire plant life, play a fun round of golf, relax in the sauna or take a dip in the ocean.
There are various options available for your ideal babymoon. Whether you want a babymoon filled with laying around the pool and swimming, a relaxing day of pampering or to simply learn more about the area, you can rest assured that all of these locations will satisfy you.
Written by Sasha O'Shea
It is almost as good as dream comes true for Sasha when she got an offer as a travel writer, infusing her love for travel and her passion to share wonderful moments with her fellow travellers. She is embarking on her adventure to Bali for the next six months working on a vounteer project with the local community.