Photo Credit: mezzapod
For a few years in the noughties there was a huge rise in demand for the traditional British Beach Hut. People rushed to purchase these small coastal structures riding on the general tide of property investment. Prices rose dramatically and there were waiting lists established for huts in some areas. Prospective purchasers saw potential for capital growth and rental income in addition to the prospect of enjoying the beach huts for themselves but in the current recession the picture looks very different.
Economics
In addition to the effects of the economic climate the viability of beach huts as an investment has also been hit by councils and landowners trying to capitalise on the properties by dramatically increasing annual ground rents. The lease on a modest beach hut might look like a decent investment at £6,000 but not if it is going to cost you £800 per year on top. Pressure groups are now being formed locally to attempt to mitigate the ground rents as many owners are now facing the problem of coping with high costs on huts that they are having great difficulty in selling on. In addition many local councils have banned overnight stays in the huts which has had a severe impact on the rental income that can be achieved.
Mortgages
Mortgage lenders will not offer financing for beach huts and the recession has meant that cash buyers are few and far between. Those who invested in the properties during the boom times are now finding that they simply cannot find buyers willing to take the huts off their hands. Estate agents report that some huts remain unsold after being advertised for over three years.
Weather
The last few summers have been disastrous for the weather and this has severely impacted on beach hut rentals even where it is possible to stay overnight. The huts which look like an attractive proposition on sunny days for lazy hours by the seaside are not such good prospects during a period of rainy days and cool temperatures. In addition Britain has fallen prey to some extreme weather in the last couple of years which not only dissuades tourists but can also damage the properties which are becoming expensive to insure.
Theft
Beach huts are difficult to secure and remain unattended for long periods making them easy targets for thieves. Owners love to attractively furnish and decorate their huts but often find their efforts destroyed by criminals. With insurance costs rising, some have resorted to the additional expense of CCTV surveillance in an attempt to dissuade the thieves but this is landing them with yet another overhead that they could do without.
Honeymoon
As the real cost of ownership has become apparent and with fewer people having the spare cash to invest in a holiday property the sales of beach huts have fallen through the floor. Whilst all things nautical remain fashionable in home décor and echoes of the British beach hut are popular themes in interior design, the huts themselves are falling out of favour. These days you are more likely to buy nautical gifts for someone's house than their once treasured beach hut.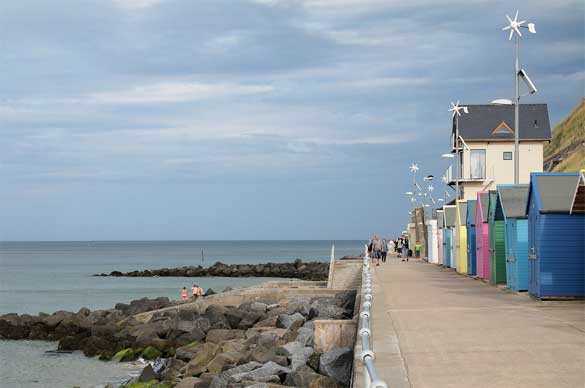 Photo Credit: Sam Turner
Sally Stacey is an enthusiastic blogger who loves the seaside. Check her out on Google+ now.
You may also love reading "How To Avoid Becoming A Golf Widow On Holiday"