Thailand may be famous for its white sand beaches, crystal-clear water and the wild and untamed nightlife, but it is also known as the Land of Smiles. This name for Thailand comes from the inborn kindness of the Thai people, but the rapid and excellent growth of dental tourism in the country suggests that dental tourists are taking this moniker literally. A significant portion of the total revenue generated in Thailand through medical tourism can be attributed to dental tourism, and experts expect it to even grow in coming years.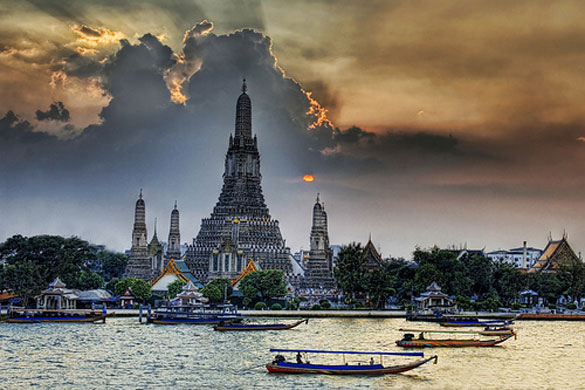 License: Creative Commons image source
Why Dental Tourism in Thailand Is a Booming Industry?
Dental tourism in Thailand grew because of foreign patients who know that they can trust the dentists in Thailand for providing first-class dental care. As more and more people come to Thailand for dental care, dental tourism is now a soaring industry in Thailand with quality of dental care getting better day by day.
Apart from the high quality dental care and reasonable price that patients get in Thailand, dental patients also come to Thailand for the efficient services that dentists provide. Patients here can expect to wait less. Excellent service is the key to the rapid growth of this industry.
Overwhelming dental insurance costs in many nations have also contributed to the growth of dental tourism in Thailand. When the patients cannot afford treatment in their home countries, they start looking elsewhere and find that they can get the same quality of service in a much cheaper format in Thailand.
Low cost dental services in Thailand also play a role in this ever growing industry. Dental procedures in Thailand can be 40 to 70% cheaper. However, this does not mean that thousands of people coming to Thailand for their dental care every year need to compromise on the quality for a better deal. Thailand is also home to 34 International JCI accredited hospitals.
Many dentists and staff have received international training and can provide quality services in accordance with the Western world. Many also speak perfect English, so the language barrier will not be in the way of excellent dental care. Dental clinics that cater to foreigners have all the advanced and sophisticated equipment needed for the procedure.
Dental Vacations in Thailand as an Added Advantage
Thailand is unique among popular dental tourism destinations, because it can offer much more than the successful dental work. Thailand was a top tourist destination long before the dental industry started to grow. The benefits of taking a vacation in a country like Thailand have played an important role in the growth of dental tourism in Thailand.
Bangkok is a modern city full of life. Many of the country's best hospitals are here. Many tourists come to Bangkok for the opportunity to enjoy their hedonistic side, but there is an abundance of attractions and cultural experiences to enjoy, such as the Grand Palace, or a tour of a complex system of canals of the city.
For patients who do not like the hustle and bustle of the capital, there are other options too. You can find a clinic for dental implants in Phuket as easily as you will find it in Bangkok and enjoy a relaxing massage while sipping cocktails on the beach.
In northern Thailand, the crowds of the tourists are always eager to explore its breathtaking jungles and mountains. The city of Chiang Mai is very popular among those who want to explore the region. From here, one can easily access the neighboring countries such as Cambodia and Laos.
Marek Novak is a travel writer currently located in Bangkok, Thailand. One of his favorite dental clinics in Bangkok is Smile Studio on Silom Road.