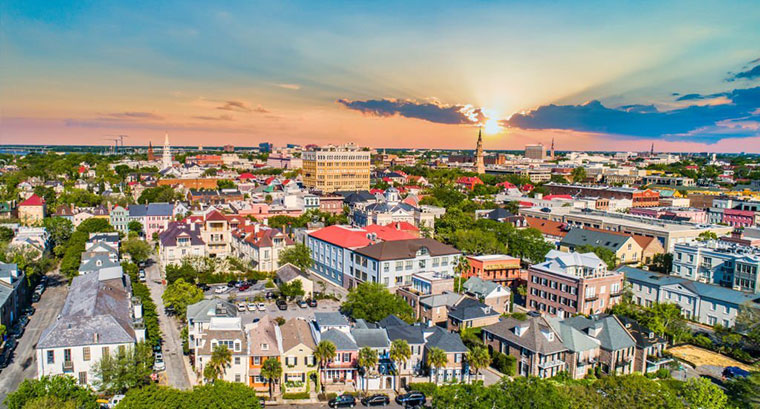 Moving To Charleston: Charleston is the second largest city in South Carolina encompassing three counties; Charleston, Berkeley, and Dorchester, sometimes called the "Trident Area" or the "Tri-County Area". It is the destination of choice for today's mobile professionals, families, retirees, and even singles. Annually, thousands of new residents move to the Charleston region, bringing fresh ideas and assorted talents to this flourishing community. All of this helps to make real estate in Charleston, South Carolina a worthwhile investment.
The appeal of moving to Charleston is no secret. For centuries, people have been attracted to its affable temperatures, its coastal exquisiteness, and copious natural resources. The contributions of the inhabitants of Charleston have created a continual influx of culture and enterprise. The town displays an amazingly unified cross-section of historic architectural exquisiteness and contemporary business development.
Voted the number one tourist destination by Conde Nast Traveler in 2011, cited as among one of the top places to live by Men's Journal in 2005, labeled the "New American Dream Town" by Outside Magazine, and voted Southern Living's top travel destination, Charleston offers the best of many worlds. No wonder so many flock to this easygoing town each year!
Here are some things to know when moving to Charleston, South Carolina.
School System
If you have children, you want to be sure that the schools in your neighborhood are competent. Charleston has a fantastic school system that is continuously advancing towards betterment in literacy, nutrition, and child health. In fact, the Academic Magnet school in North Charleston was voted number twelve in the US for best high school.
Medical Care
This may seem inconsequential when you first move to a city; however in the long-term, it is very important. The last thing you want to discover is that the city you moved to has inadequate medical services after you need it. Charleston has a number of very reputable medical facilities that have expert personnel to meet everyone's needs. Charleston has over 10 hospitals and more than 2,000 practicing medical doctors.
Average Age
Getting established in a new town and then finding out that most people are much older or much younger could make you feel a bit awkward. Checking the median age of the area you plan to live in is key. The median age in Charleston is 33, making it a fantastic city for a broad range of age groups. A thriving young professional scene, family, and retiree locales can be found in various communities.
Economy
The state of the economy can have a significant impact on your security and quality of life. One of the reasons why real estate in Charleston, SC is highly sought after is because the town is a hub for investments from businesses and it attracts large tourist revenue. In addition, the College of Charleston is downtown, drawing a large group of gifted individuals to the area.
Population
Population can have an effect on transportation, crime rate, and so on. Some people are more suitable for small towns and others for larger ones. Charleston has a population of around 111,980 and it continues to grow.
Summary
Whether you are a young single, have a growing family, an established professional, a college student, or empty nesters, all can find their place in the city of Charleston, South Carolina.
Alex White is an avid blogger who enjoys writing about his travels. Please share your views on "Moving To Charleston: What You Need To Know" in the comment section.