The Jersey shore is where memories are made and lives are shaped. The area took quite a hard hit from Hurricane Sandy in October of 2012. However, it is still a great place to call home! To much of the world, Ocean City is known as America's Greatest Family Resort; however potential home buyers can just call it home. The Ocean City, New Jersey real estate market offers a variety of options that can be suitable for many different situations from families to those just wanting a little piece of paradise without leaving the Garden State.
Where to work?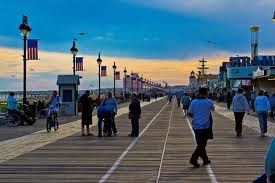 License: Creative Commons image source

When looking for a place to relocate either by yourself or with your family, one of the first questions likely to cross your mind is where to find employment? Some people may follow their careers to their next destination while others may be searching for a new source of income following their move. Potential residents of Ocean City can look towards the tourism industry for a job. Some positions may be seasonal with a minimum age requirement. For those looking for a year round income, various opportunities may be found in education as well as other fields.
Summer Fun
The thought of spending long, warm summer days with toes in the sands of the beach is what often attracts many to the Jersey Shore. Ocean City visitors and potential residents have the added benefit of knowing the city is also a great destination to bring the entire family, whether they are five or ninety-five.
There are a variety of recreational opportunities offered by the city for residents to enjoy. Golfers, who are looking to hit the links, pack your clubs because there is a course waiting for you. There are also parks available for families to enjoy some time outdoors without going to the beach. Some opportunities may also take place indoors. This option can be especially helpful to those looking for something to do when the temperatures are too hot to be outside or on a rainy day.
As with nearly the entire Jersey Shore, the main attraction lies along the sands and the boardwalk that beckon residents and visitors alike to come enjoy and forget about their regular daily lives, even for just a little while. Remember though prior to sticking your toes in the sand and the surf, Ocean City does require beach tags. In the interest of safety, it is wise to make sure the beach you wish to enjoy is guarded before entering into the water.
Ocean City also holds a variety of events during the summer months that are sure to entertain all who partake in them.
School is back in session
As much as the school age children don't want summer to fade eventually school will be back in session. Potential homebuyers looking for their children's new school do not have to look far as Ocean City has its own school system.
Whether you are looking for a summer home or a new permanent place to call home, the Ocean City, NJ real estate market has an offering waiting for you. Grab your stuff and head for America's Favorite Family Resort!
Tony is a long time resident of Ocean City, and likes to share some of his experiences with readers thinking about visiting or moving to the area.