France attracts millions of Brits every year. Tourists are attracted to the iconic cities, beautiful cities, world famous cuisine and the fact that it takes so little time to get there. Tourists flock to France for a number of reasons, be it a family holiday, a romantic getaway, backpacking or a relaxing retreat. France has something for everyone's taste – coastlines, countryside and city life.
Visiting Paris
Paris is the first place on many people's list when they plan a trip to France. The iconic sights of the Eiffel Tower, The Louvre and Notre Dame are just some of the world famous sights that you can see. Visitors to Paris enjoy the beautiful parks, river cruises on the River Seine, eating in the cafes and dining out in world class restaurants. Paris is the type of city which tourists love to just take in. Wandering around the beautiful streets with nowhere to be can be a brilliant way to spend a day soaking in the atmosphere.
Disneyland Paris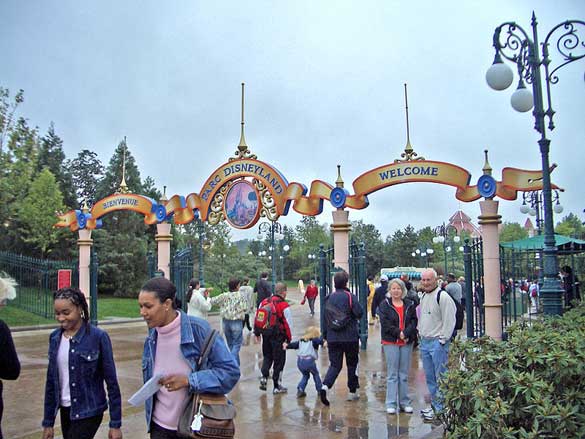 Image Source Wikipedia
Many people visit Paris en route to Disneyland Paris which has been a firm favourite with families since it opened in 1992. Prior to the opening of Disneyland Paris, European tourists had to fly to the other side of the world to get the magical experience. Now, Disneyland is a short trip away on a plane or the Eurotunnel, making it easily accessible to Britain.
Disneyland Paris is around 20 miles away from the centre of Paris and has been labelled as the most visited attraction, not only in Paris, but the whole of Europe. The huge 4,800 acre park is actually home to two theme parks and an array of hotels. Disneyland Park is the original theme park, which was accompanied by Walt Disney Studios in 2002.
Normandy
Normandy is a region in the North of France. To Brits on the south coast, Normandy is actually quicker and easier to get to than the North of England. Normandy is home to some of Europe's most fascinating history, including William the Conqueror.
Most people are attracted to Normandy's more solemn attractions which is the location of the D-Day landings. Visitors can visit the endless cemeteries of white crosses, which for some visitors, may be the resting place of their own relatives.
Dordogne
Heading further south, many visitors are attracted to the region of Dordogne which is located in South West France. Some critics have labelled Dordogne to be the foodie heaven of France. The markets of Dordogne are a haven for fresh produce including mushrooms, goats cheese, walnuts and figs. The landscape of Dordogne is also known for its beauty, with rolling green fields, vineyards and chateaux's, everything that one would imagine France to be.
Brittany
The North Western region of Brittany is well known for its stunning beaches. The area has something to suit everyone, with hotels and restaurants in a range of prices. Brittany is more than just beaches, it is also home to fascinating European history and some of the Celtic traditions of its past are still strong today.
Mandy Hodgkinson is a renowned author of all things travel and tourism related. Mandy frequently visits www.dordognerental.com to get the latest information on holiday homes in France.