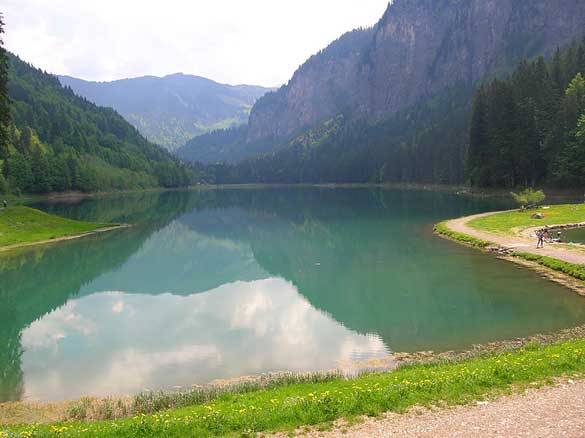 Image source Wikipedia
Where is it?
Lac de Montriond is situated about a ten minute drive from the picturesque alpine village of Morzine, in the Haute-Savoie region of France. Being so close to the village, many of it's visitors (and locals alike) will spend a lot of their time around the lake, which covers 32 hectares. Not just to enjoy it's stunning views, acting as a glorious backdrop to picnics, swimming and lazing around in the summer, but also for skiing in the Winter months.
Summer at Lac de Montriond
Visitors from both Morzine, Montriond itself and the purpose-built resort of Avoriaz will tend to visit Lac de Montriond all year round; which you could argue is unusual for a lake. It is covered in snow most of the year, so when the sun does shine, lake Montriond really comes to life. It's a definite hot-spot for anyone visiting the area and is the base of many outings and events.
Holiday-makers that visit Morzine in the Summer are likely to be interested in the mountain biking that goes on throughout the Summer. The area certainly is renowned for it. So if you're visiting for the sports, you might just find Lac de Montriond is the perfect getaway for an afternoon of relaxation.
There is even a kid's pool built at the end of the lake, which is a brilliant way to relax and let the kids have fun. There are footpaths all around the lake and even a few cafés dotted around the perimetre, which provide a welcome refreshment to anyone who has been on a long bike ride or walk.
If you do keep venturing around the lake and up a valley you will discover that the lake is fed by a magnificent mountain waterfall. If you're in the area visiting Lac de Montriond, it is something you can't go home without experiencing: a must-see!
In the first weekend of August, you'll be able to enjoy the big annual festival at the lake. Expect to hear live music, taste a delicious variety of foodstuffs and 'ahh' at the spectacular fireworks display.
Winter at Lac de Montriond
As the lake is frozen solid covered and by snow and ice most of the year, and it makes for a great playground to enjoy. There are a few things to get up to at the lake during Winter, even Ice-Diving for those who are brave enough!
For those who go to Morzine to ski, the lake offers a fantastic location for some off-road skiing and is a snow-white canvas for adventure. When you're done exploring the lake's beautiful surroundings and are ready to trudge back up to your cosy catered chalet in Morzine, you will find a plethora of aprés ski locations, bars, lounges and nightclubs, as well as well catered children's facilities, restaurants and events.
Morzine and Lac de Montriond should be on anyone's bucket list; it really offers something for everyone, in amidst some of the most stunning views you will ever get the priviledge to see.
Tomås Sitziema is a travel blogger and skiier who has spent a lot of time in the Haute Savoie area of France, including Morzine. He writes on behalf of Mountain Spaces – who provide luxury catered chalet accommodation in Morzine.