Fancy a peaceful and relaxing vacation with family and friends? Visiting an amazing scenic park should do the trick. For a nature-filled vacation, Cardwell serves as the perfect destination to visit.
Surrounded by lush forests and beaches; this is a vacation spot the entire family would enjoy. Cardwell serves as the entryway for Hinchinbrook National Park so there's never a shortage of fun things to do here.
Here are a couple of fun things tourists and vacationers can indulge in while visiting the area.
Lush Hiking Trails
There is never a shortage of bushwalking adventures in Cardwell. Flanked by the one of the biggest island National Parks in Australia, Hinchinbrook Island; the site serves as a bushwalker's adventure of a lifetime.
The Thorsborne Trail – a trail meant for experienced hikers; this features a 32-kilometre walk that spans a portion of the Hinchinbrook east coast. The trail itself takes about four days to complete so it's expected that hikers are well-prepared before they go. Moreover, only a limited number of hikers (50 people) are allowed at one time to prevent damage to the surrounding area.
Scenic Waterfalls
When visiting the place, there are countless picturesque waterfalls and swimming holes to explore as well. There are signs all throughout the park guiding tourists where to go. A few of these include Attie Creek Falls, Spa Pool and Dead Horse Creek.
Murray Falls, considered as one of the most stunning waterfalls in the country, is just a 22-kilometre drive from the area and can be found inside Girramay National Park. This waterfall offers a scenic 30-metre water drop over beautifully sculpted granite rocks.
Great Accommodations
For those who want to relax and enjoy the park, there are plenty of Cardwell accommodation spots ready for the taking. Those looking to save up will discover that Cardwell motels actually offer really competitive rates and are equipped with amazing amenities.
There are even special backpacker hostels available so it's easier for groups to travel without breaking their budget.
Fishing in Hinchinbrook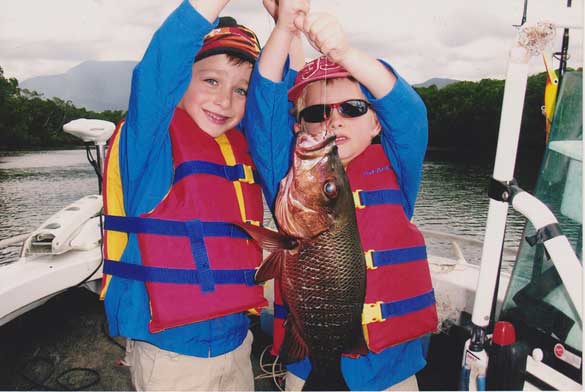 License: Image author owned
Aside from the nature trails, Cardwell is especially known for Hinchinbrook Island. This little island is considered a haven for fishing enthusiasts everywhere. Consisting of more than a hundred types of fishes, there are inlets, beaches and rental jetties available for everyone's fishing needs.
Some of the aquatic species that can be found here include Fingermark, Queenfish, Estuary Cod, Whiting, Flathead Salmon and even Sand Crabs. With such a wealth of game, fishing enthusiasts and even first timers will enjoy taking time to fish while absorbing the charming setting.
Getting in touch with nature and enjoying what it has to offer doesn't have to be difficult. The Cardwell Caravan Park and its nearby areas offer astounding attractions for entertainment as well as relaxation.
From trekking the beautiful and challenging trails, to taking a dip in refreshing swimming holes down to fishing in the lush waters of "Australia's fishing Mecca," Hinchinbrook; there are no limits to the fun and excitement to be had while vacationing in this haven.
By Debra Wright
A self-professed geek, Debra Wright has dreamt of being a writer since as long as she could remember. She has recently written about a number of topics online, including travel, and hopes to get more people interested in travel destinations through her written work. Get to know her more through twitter @debrawrites…