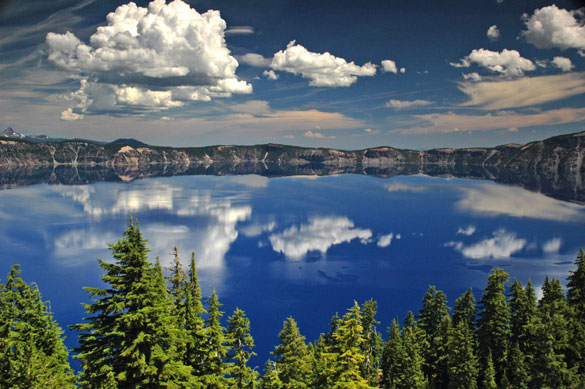 License: Creative Commons image source
Nobody wants to swim in dirty water, and if they do, they probably didn't have a choice on the matter. If your travel objective is to see the clearest bodies of water in the US with your own eyes, then make sure you add these five heaven-on-earth locations to your itinerary.
1. Crater Lake in Oregon
Widely known for its deep blue color and clear water, Oregon's Crater Lake is a caldera lake that partly fills a 2,148-foot deep caldera formed from the collapse of the 11,000-feet tall volcano Mount Mazama. Crater Lake is the deepest lake in the US and also the most beautiful, especially when you see it as you approach the rim of the caldera and the lake is 1,000 feet below you. Another interesting fact about Crater Lake is that it has no inlet or outlet streams. Its pure, clear water comes from springs, snowmelt, and rainfall.
2. Jenny Lake in Wyoming
The centerpiece of Grand Teton National Park, Jenny Lake allows scenic tours on motorboats to have tourists enjoy the beauty of the 1,191-acres lake. According to a 2005 study on its water quality, Jenny Lake has no traces of air or water pollution and its water is considered pristine. Hikers and adventurers will enjoy the dramatic mountain scenery as they hike into Cascade Canyon past Hidden Falls and Inspiration Point. The views range from sagebrush meadows to alpine lakes. Then, at the end of the day, there are campgrounds with the most stunning backdrops that will compensate any aching body parts.
3. Lake Tahoe in Nevada
The second deepest lake in the US, Lake Tahoe is located along the border of California and Nevada, and is a major tourist attraction of both states. It is also the largest alpine lake in the US with an elevation of 6,229 feet. But what Lake Tahoe is best known for is its stunning 99% pure, blue and clear water surrounded by 4,000-feet mountains. Whether it is summer or winter, you'll always find a number of activities to do on Lake Tahoe. You can go hiking, whitewater rafting, and swimming in its constant 39 degrees fahrenheit water. In the winter, annual snowfall averages at 40 feet and snowpack at 20 feet, which makes the area a popular place for downhill and cross-country skiing.
4. Hanauma Bay in Hawaii
Hanauma Bay is located along the coast of O'ahu island and one of Hawaii's famous tourist destinations. Once a volcanic crater, the "curved bay" (literal translation of Hanauma) became a protected marine life conservation area and underwater park called the Hanauma Bay Nature Preserve. Its clear blue waters are home to lovely reefs with many colorful fish. That's why the bay is renowned as a favorite of snorkelers and scuba divers. However, be aware of the strict measure that the park has implemented to preserve the bay's ecosystem.
5. Lake Leelanau in Michigan
Leelanau, also called Carp Lake, is a 23-mile long lake that includes two bodies of water—North Lake Leelanau and South Lake Leelanau. Leelanau, with its literal meaning "delight of life", is famous for its sandbars, clean and pure waters, and water sports. And if you want to get out of the lake, there are also other nearby places to visit like the Sleeping Bear Dunes and the Grand Traverse Lighthouse.
This article was written by Jaimee Garner, a travel enthusiast and guest blogger for Serv-A-Pure, a manufacturer and distributor of water filter and water purification systems. Looking for a water filter cartridge or replacement? Try their easy-to-install Pentek filter cartridges and drink the clearest and cleanest water for your health!