New England is full of large, colorful trees, rolling hills and beautiful villages. Even at first glance, it's apparent that the scenic northeast of our country is full of great places to kick back and relax. With so many great places to visit, it was difficult to choose just a few to feature in this article. However, we were able to pinpoint several locations that are ideal to help you take a load off.
Meredith, New Hampshire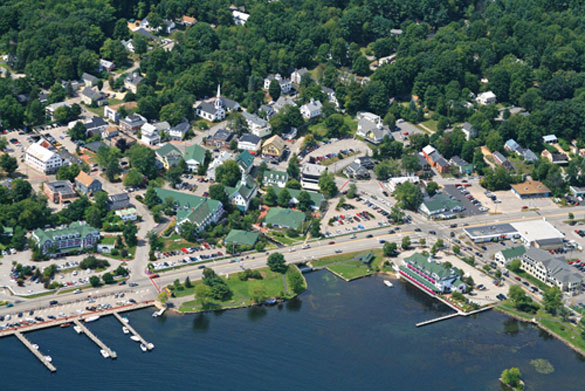 Bird's-eye view of Meredith village. Image Source Wikipedia
Located on the banks of some of the largest and prettiest lakes of the Granite State, Meredith offers a lot of tourist activities and plenty of sightseeing, as well. The nearby lakes are some great places to go boating or relax. If you're looking for something a little more adventurous, you can check out the Polar Caves, just a short drive away. Shopping is another big hit amongst the visitors of Meredith. There is a local market place and a great outlet mall for you to visit, too.
North Conway has great accommodations too if you are considering a visit to Meredith. The Stonehurst Manor is one of the hotels in North Conway NH and is a great place to relax, enjoy award winning foods and wine, escape and still stay close to your main destination. It's a five minute drive from Meredith and it's located right on the New Hampshire-Maine border. North Conway is inside White Mountain National Forest, and just minutes away from some of the best biking, hiking and rock climbing routes that New England has to offer.
Boston, Massachusetts
Boston, a city that many would consider to be the capital of New England, is a great place to go to ease your mind. Whether you go in the spring/summer and take in the sites of Fenway Park, or you visit in the fall to see the leaves change their colors, Boston seems to be able to provide something for everyone.
One of the most historic cities in the country, there are some great, educational sites to see. Whether you go to our country's oldest public park, take a tour of Harvard's campus or go to the Boston Library, you'll never run out of fun things to do in Beantown. Boston also has some excellent golf courses, where you can go to play a few rounds and clear your mind. Leo J. Martin Memorial is one of the best courses around. With some cgreat courses in the area, you'll definitely have a good chance to get a discount golf tee time.
Newburyport & Plum Island, Massachusetts
Newburyport & Plum Island, in eastern Massachusetts, have some of the most charming and fantastic scenery in all of New England. Plum Island may well feature the best beaches in the entire northeast of the U.S.A. There are strong waves and private areas for you walk to and enjoy. There are walking trails and wildlife all over the island, making it a great place to forget about life for a while. There is also an awesome lighthouse on the northern coast of Plum Island that is fun to investigate while you're spending time on the beach. The local dining scene is astonishing, and there is a bustling downtown area, too. You'll love the time that you spend in Newburyport and Plum Island.
Vincent Stokes is an outdoor enthusiast and an experienced world traveler and works to promote pride in homegrown travel destinations. You can also connect with Vincent on G+ or twitter (@TravelingGlobal).