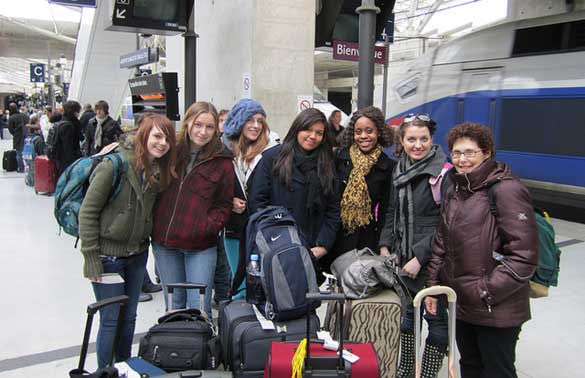 License: Creative Commons image source
Whether you are looking to study abroad for a semester or you could become an ex-pat there is one simple fact: you need to do something with all of your things. Lucky for most students we don't have cumbersome power tool garages or expensive porcelain doll collections. Still we have things and we have to do something with them. The arguments for self storage become more and more pronounced when you consider the alternatives.
Here is a checklist for students studying abroad to take into consideration about self storage and what to do with their things while they are away.
Storage:
This one is maybe the most obvious consideration when you can't keep your student housing or apartment. Besides who wants to pay for an apartment when you're abroad? Putting all your extra clothing, televisions, stereos, jewelry, personal affects, and other electronics into a self storage unit can make a lot of sense.
Size:
However when you are going into a storage facility you need to be sure you pick an adequate size for the quantity of your things. If you have a lot of extra room you're just spending money you don't need to. If you don't have enough room, you're going to have to make cuts. Of course you should speak to the storage facility before you make your rental and you might even want to itemize and catalog all of your merchandise so you know exactly what you have left there. It's also probably always best to err on the side of too big because you would hate to have to give up some valuable items because you ran out of space!
Packing:
When you do decide to use a storage facility you need to be sure you pack everything adequately and securely. This can be another reason to want to get a little bit bigger storage space than you thing you might need. If you're going to have blankets, packing materials or boxes in the storage space you are going to need to account for those items as well. Double insulation is always the smart way to go for your most sensitive items. You would hate to have an incident when you are loading or unloading.
Car:
Your car is another story entirely. Regardless of how long you're going to be away, you're going to need to do something with your car. Ideally you would just leave your car with a friend or family member at their house. If that is not possible another alternative may be to find an inexpensive parking garage on the outskirts of town. If you have paid the car off you can also remove your license plates and get a "car blanket" so that you don't have to continue to carry insurance. Just make sure the garage knows that you will be "long-term" parking.
Location:
Where are you leaving from? Where are you returning to? Where is your home? Where is your school If they are vastly different locations you're also going to have to decide where you want your select your storage facility from.
Criteria:
What type of amenities should your storage facility have? Is the facility staffed? Do they have onsite security? Are the storage units temperature/climate controlled? Is there computer controlled entry? All these things need to be taken into account when you are selecting your self storage facility.
When selecting a self storage facility there are many things you need to consider. Should you sell, give away or store most of your belongings? That really depends on the answer to the question, 'When are you coming home?'
K.M. is an associate at EZ Storage, a Boston self storage facility, click here to learn more. She enjoys entertaining and cooking for friends and family.