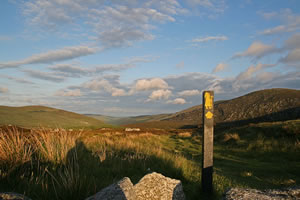 License: Image author owned

The Wicklow Way is Ireland's first long distance way-marked walking route. It is 132km and runs from the South Dublin Suburbs to Clonegal. If the weather is with you this is a great 7 day or less walking holiday, if the weather is not it can be quite a chore.
Ireland is known for a few things and one of them is its rain. Think of the Garden of Ireland and the Green Isle – rain helps it be this way. However like Scotland the driest months are May and September – normally. These are the best months to walk and you will find accommodation easier during these two months.
The Walk
Your first decision on the Wicklow Way if whether to walk from North to South or South to North. Walking from the north is the traditional route however the route is way marked well and easy to follow in either direction.
Starting in Dublin the first day takes you into the Wicklow Mountains. It is a hard uphill walk for the first half of the day. However if you are blessed with a clear day have your camera to hand as the views over Dublin and out to the sea are beautiful.
Glendalough is one of the main places that is recommended to stop at on the second day. It is worth staying over here if you have extra time as there are great one day walking routes in the area. There is at least one hostel in Glendalough, one hotel and a few nearby bed and breakfasts.
The walking gets easier and less hilly the further south you travel. This route after Glendalough is very quiet and you can get to enjoy the solitude of country walking without car or people noise – except at weekends when the hills get quite busy.
There are very few places each day where you can fill up with water or stop for food. For example the first day out of Dublin does not pass anywhere to stop for food or water. Bearing this in mind make sure you have enough each day for the full day before you start out each morning.
Where to Stay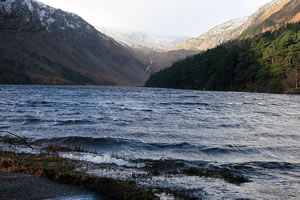 License: Image author owned

There are a few hostels along the way and lots of bed and breakfasts. I would treat myself to a hotel in Dublin. Budget on €15 for the hostels, €35 to €50 each for the hotel in Dublin and the B&B's. Book you accommodation before you go – there are a few companies that will do this for you.
There are a few areas for wild camping, however during recent years a lot of land owners have stopped letting hikers camp. This has been due to the rubbish that many have left behind. This is one of the main problems with any of the long distance walks in Ireland.
Getting There & Home
Fly to Dublin and bus to Marley Park where the Wicklow Way starts or train to Clonegal and walk north.
How Much Time: Maximum should be 7 days, most people will do it in less, 5 or 6 days. It depends on how fit a walker you are.
Leslie loves hill walking and writes about his walks on his Camino website, and his walking in Scotland site.