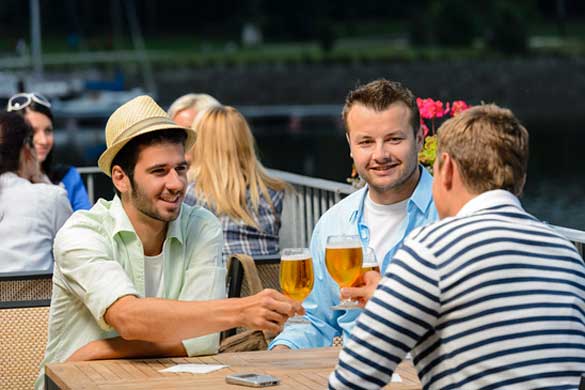 License: Image author owned
Stag parties have certainly come a long way since the days when it was just a couple of drinks down the local pub the night before the wedding. Today, long weekends, city breaks or trips abroad with hordes of the groom's friends partaking in adrenalin-fuelled activities and extravagant nights out are the now norm, and celebrations are getting more and more lavish every year.
But you don't need to jet off to another country to celebrate a stag weekend in style, there are plenty of exciting hotspots on home soil which will guarantee you a wild weekend without the pricey airfares to get there. So forget Vegas, Bangkok or Budapest, here are five of the best UK destinations for a stag weekend to remember.
Newcastle
With a reputation for girls on a night out adopting a 'less is more' approach to their attire whatever the weather, it is little wonder that large groups of men are attracted to this vibrant city in search of exciting nightlife. But there is plenty more on offer in Newcastle than its reputation for short-skirted females, this is a modern metropolis that has reinvented itself in recent years. The trendy Quayside area is awash with quality bars and clubs, while you don't have to travel far to enjoy a day at the beach or find some adventurous countryside pursuits. You'll enjoy the famous Geordie hospitality and find plenty of fellow stags and hens to swap stories with.
Newquay
If you crave sunshine combined with thrilling beachside activities and equally thrilling nightlife for your stag weekend, then Newquay is your best bet without leaving UK shores. Its southerly location makes it one of England's sunniest resort towns and its reputation as the country's surfing mecca also means there is plenty of high octane action to enjoy, whether that's watching the experts riding the waves, or having a go yourselves with surfing lessons.
Edinburgh
This cultural hotspot is well used to dealing with tourists from around the world throughout the year and its experienced more than its fair share of stag parties too. The fantastic food scene means you'll be spoilt for choice for dining out, while world class entertainment is what Edinburgh is all about, from street theatre to prestigious art exhibitions. Even if high culture is not on your agenda, historic pubs, an infamous area of 'gentleman's clubs', whisky tours and buzzing nightclubs will keep you busy for the weekend.
Cardiff
A huge hit with sports enthusiasts, Cardiff has been welcoming crowds of rugby fans in particular from around the globe since it hosted the sport's World Cup in 1999 and unveiled the gleaming Millennium Stadium. But even if there are no fixtures to enjoy you'll find plenty to entertain you, while the remodelled city centre mixes traditional boozers with fancy new bars, perfect for a pub crawl. At weekends, you won't be the only ones donning fancy dress outfits and hopping from bar to bar, so dress to impress if you really want to stand out.
Bournemouth
This long-standing seaside resort combines traditional charm with forward-thinking nightlife, having carved out its own reputation as the Ibiza of England. A warm climate and stunning beaches make it perfect for lazy days or thrilling pursuits, whether you want to sunbathe on the sand or test your nerve with cliff jumping or coasteering. The bars and clubs ooze style too and offer plenty of holiday spirit for your stag weekend.
This article has been brought to you by James Cook. The expert in holiday advice, from romantic breaks to stag weekends.