Rollercoasters are always getting bigger, faster and wilder. As long as people get excited by hurtling along at speeds upwards of 100 mph, the brains behind them will keep thinking of ways to make screams louder and knuckles whiter.
Now, as great as titles like 'tallest' or 'fastest in toe word' sound, most people who have strapped themselves in for a thrill ride will know biggest does not always mean scariest. With that in mind, here are some of the world's craziest rides:
Kingda Ka, New Jersey, US

Photo © Leo|mascaro
The world's tallest and second fastest rollercoaster, Kingda Ka is themed as a mythical tiger and goes from 0 to 128 mph in 3.5 seconds. Riders are catapulted around 45 stories (456ft) into the sky before plunging into a vertical 270 degree spiral.
Formula Rossa, Abu Dhabi, UAE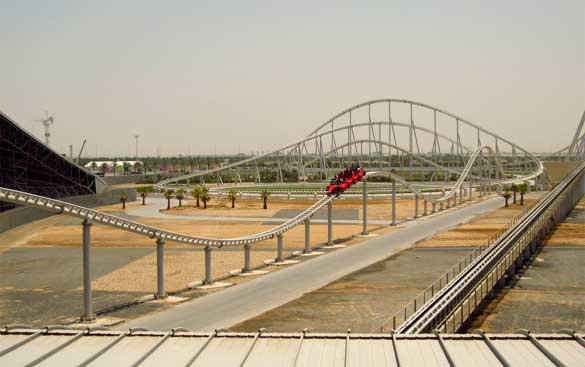 Photo © Rafael Oshiro
The world's fastest rollercoaster, the Ferrari F1 themed Formula Rossa has a top speed of around 150 mph. It reaches its top speed in around 4.9 seconds with a velocity similar to that of aircraft carrier catapults. The shape was inspired by the Monza race circuit in Italy, and unsurprisingly is located at Ferrari World.
Due to its phenomenal speed, all passengers are required to wear protective goggles in case of a head-on collision with any unfortunate passing bugs.
According to officials: "You'll accelerate up to 240 kmh and see what 4.8 Gs really feels like. You'll scream over the track and 52 meters into the sky before flying through the chicanes, inspired from some of the most famous race tracks in the world, and across the finish line, with an adrenaline kick worthy of the Grand Prix."
Takabisha, Yamanash, Japan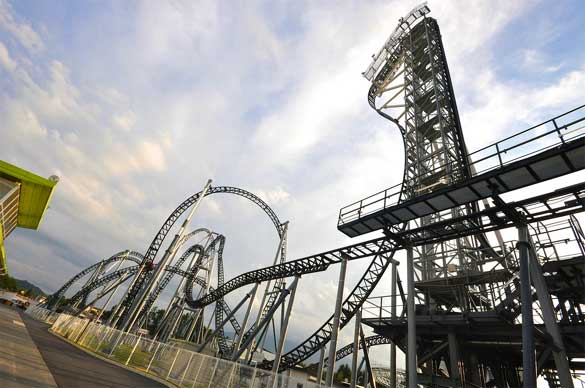 Photo © Benjamin Roach
In English, Takabisha means 'high-handed' or 'domineering', which sounds ominous enough – but add a drop angle of 121 degrees and you have something else entirely. Opened in 2011, it is the world's steepest rollercoaster. Starting with a drop into a pitch black abyss, its cars are launched down a tunnel at 62 mph. The ride is over in a rapid 112 seconds giving riders little time to enjoy the spectacular views of Mt Fuji.
Batman: The Ride, Illinois, US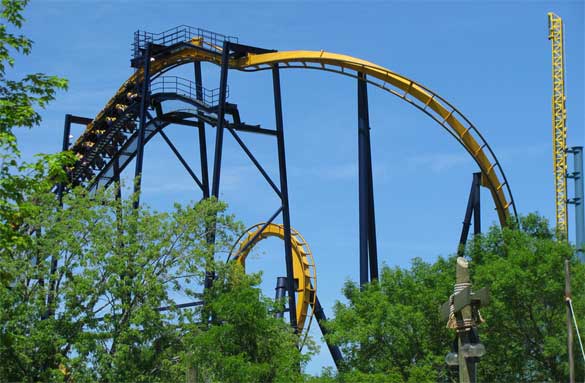 Photo © Patrick McGarvey
More than 28 million have braved this inverted rollercoaster since it opened in 1992. This year, 2013, is the first time any have had the thrill of doing it all backwards!
Hank Salemi, Six Flags Great American Park president, says: "Nothing compares to the thrill of racing down 10 stories facing the other direction. You literally have no idea what's coming next."
The Smiler, Staffordshire, UK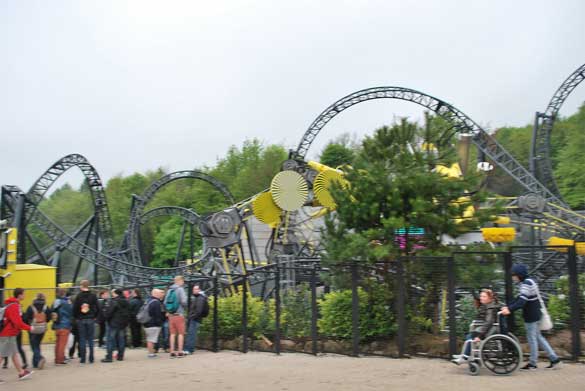 Photo © Christian Stokes
The latest addition to Alton Tower's assortment of thrills and spills, the Smiler has more inversions than any other rollercoaster in the world with 14. Its designers have dubbed it as "probably the most intense rollercoaster ever built".
As well as frequent spells upside down, riders are disorientated by sequences lights and flashing imagery. The Smiler cost £18 million to make.
According to the Smiler's official website: "Not for the faint hearted, the marmalising rollercoaster also features a series of twisted psychological effects including optical illusions, blinding lights and jabbing needles designed to mess with your mind."
Guest post contributed by Simon Jones, a self-confessed thrill seeker who bases his holidays on the best theme parks local to the location! Loves regularly visiting his local lightwater theme parks with his young children.