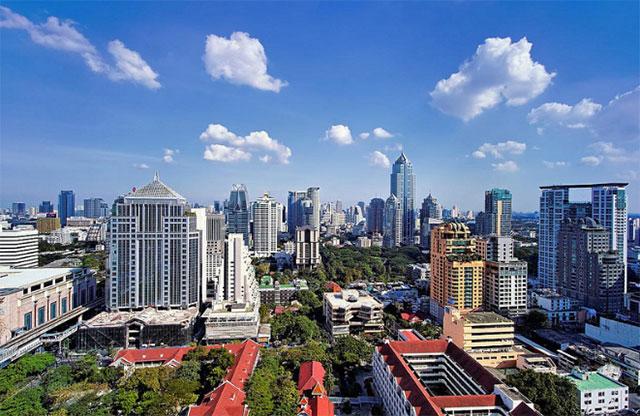 Langsuan Areas of Bangkok – Photo © Igor Prahin
Thailand is Asia's number one travel and holiday destination with an estimated sixteen million foreigners flying in to the country every year seeking a vacation. Even with this influx of visitors, Thailand's cultural integrity remains solid and strong. Thailand's largest city and its capital is Bangkok, the official language is Thai, the primary religion is Buddhism and its currency is the Thai Baht. Officially known as the Kingdom of Thailand, formally Siam, this beautiful, mystic country resides in the middle of the Indochina peninsula. The diverse landscape of Thailand is one that evokes both a relaxing inner clam and bustling excitement.
Thailand is a very inexpensive country to visit due to it's affordable standard of living and it's a very popular travel destination for people all around the world. Your dollar goes along way compared to western countries, when buying Baht, the most accepted form of money is the United States dollar, second is the British pound followed by the Euro. Conveniences like ATM's and large banking institutions, especially in the large cities, are in abundance, but it is extremely important to have cash on hand. US dollars are the most widely accepted form of cash in Thailand, because when travelling in the provinces or remote areas credit cards are not usually accepted by family run guest houses and restaurants. It is easy to exchange cash at the airport in Bangkok when you arrive, or just use any major ATM card.
Thai Food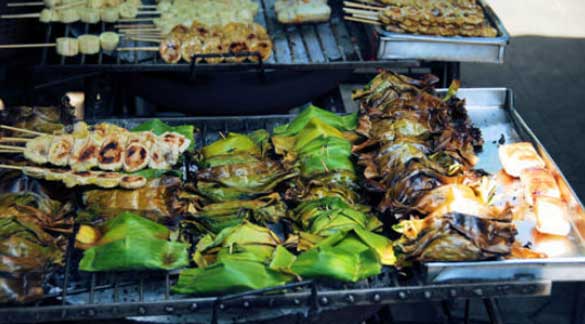 Bangkok Street Food – Photo © Lance Huntley
Thai cuisine is one of the most adored delights around the world, using fresh and local ingredients; their culinary delights are built around the four flavors spicy, sweet, salty and sour. It is common to see dishes utilizing lime juice, garlic, chillies and lemon grass, freshly prepared seafood and fried chicken lay on fragrant jasmine rice. Thailand is also known for their curry. Thailand is one of the world's largest exporter of rice and is the main staple in the Thai diet.
Bangkok
Bangkok is the political, commercial, industrial and cultural hub of Thailand. If you are looking for an exciting urban adventure then Bangkok would be the place to check out. With its rich multifaceted personality, Bangkok marries mega-malls and international brand names with old villages and Buddhist temples, all sharing the same skyscraper and neon skyline. Life is conducted on the street in Bangkok's markets, an adventure through Chinatown can lead one around a quiet corner where running into a monk can end up in quite a conversation.
Bangkok's China Town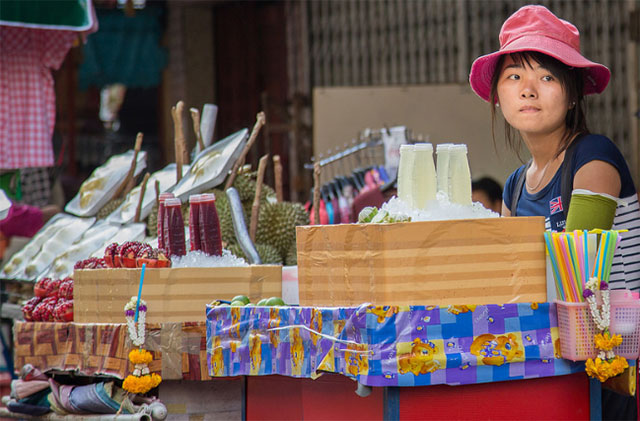 Photo © Benedikt Halfdanarson
Bangkok's China Town is known as Yaowarat by the locals, it unquestionably has one of the most amazing displays of the weird and wonderful in all of Asia. If it is bizarre, you will be able to find it in Yaowarat. Even though it is one of Bangkok's oldest areas, it is far from being central. The easiest way is to get there is an air-conditioned taxi, however, you may get caught up in traffic jams. Many locals use the Bangkok MRT subway and get off at Hua Lamphong station where it is only a 10 minute walk away and also there are many tuk-tuks waiting to take you as well.
Bangkok Flower Market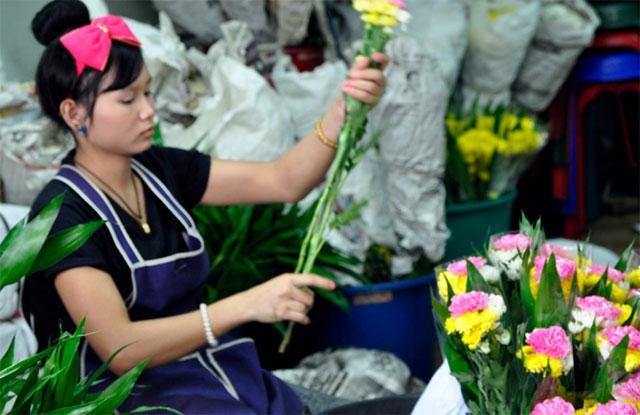 Photo © Louis Allen
While you are in Yaowarat, you can also visit the famous Bangkok Flower Market that is located down on the river near the King Rama Monument. Unless you have a good map, it is suggested you get a taxi as all the streets all look the same. This is the largest flower market in Thailand and it is believed to be the largest orchid market in the world. You can buy just about any flower there, it really is an amazing experience to see. Unfortunately for most tourist, it is a wholesale cut flower market where you have to buy in bulk and I really mean bulk. Most of the roses come in bunches of at least 50 flowers, however you can get smaller bunches made up after mid morning when it settles down. To be honest, if you are wanting some flowers, it is just easier to order a delivery from a normal Thai florist.
There is no shortage of operators offering tours in Bangkok, all night bar crawls and long tail boat rides, this 'The City of Angels' and definitely can be paradise found if you are willing to look further afield from the tourist ghettos.
John Shoane is one of Thailand most respected orchid experts, while spends most of his time breeding Thai Orchids he also trains the staff of Gogo Florist in Bangkok. You can contact him on Google+ anytime.