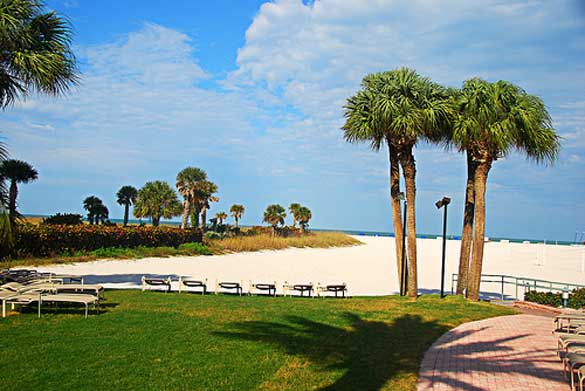 License: Creative Commons image source
When searching for that perfect vacation spot, Florida should hold the top spot on the list. This great state offers it all – from culture, to beaches, to theme park thrills. You can never run out of fun stuff to do while in Florida.
Referred to as the "sunshine state," Florida is well known for its fantastic warm weather all year round. Its natural wonders like the Everglades and an array of other attractions make Florida the number one vacation destination for many people.
Florida's Natural Beauty
One of Florida's most beautiful natural wonders is the Everglades National Park. Named as the third largest park in the U.S., this interesting site offers miles of wetlands that were created by a slow-moving river that flows for more than 20 miles.
The park is also home to wildlife, including several endangered species such as the West Indian manatee, the Florida panther, and the American crocodile. There are also more than 300 different types of birds and fish that also call this park their home.
Many areas in Florida offer diving, walking, and hiking tours where visitors can get a firsthand look at Florida's natural beauty. In Lake County, for example, hikers can move through some of the state's most beautiful wetland preserves. The area is also famous for its cave dive in ancient springs, along with kayaking along the Timucuan Indian Trail.
For hungry seafood lovers, the state hosts numerous fresh seafood dining establishments. Coupled with fresh produce such as state-grown oranges and lemons, tourists can find food that isn't just tasty but healthy as well.

Delray Beach florida – Photo © Scape Pics
Relaxing at the Beach
Certainly, with its miles of shoreline, Florida is a great destination for beach lovers. The state offers numerous beaches for visitors to relax, swim, surf, and create sand castles. Just a few of Florida's top beach locations include Delray Beach, Clearwater Beach, Cocoa Beach, and South Beach. Some of Florida's beaches are known for being "shell islands." Here, visitors can find a variety of both large and small sea shells. Captiva Island and Anna Maria Island are both perfect places to take part in a shell hunting adventure.
You will also find the lodging of your choice in most of the beachfront locations – regardless of whether your prefer high rise luxury accommodations or a more laid back and quiet stay in a small bed and breakfast.
And, after a great day of hitting the waves, there's nothing quite like watching the sun set over the ocean. In fact, the sun set in Florida is quite an event, oftentimes resulting in cheers and applause from those viewing it together in restaurants and other public places.
If you just need a break from the sand, taking a long drive up the coast will literally take your breath away. Florida offers more than 1,200 miles of beautiful beaches – so driving along the coastline can be done from nearly anywhere along the state's east or west side.
Theme Park Magic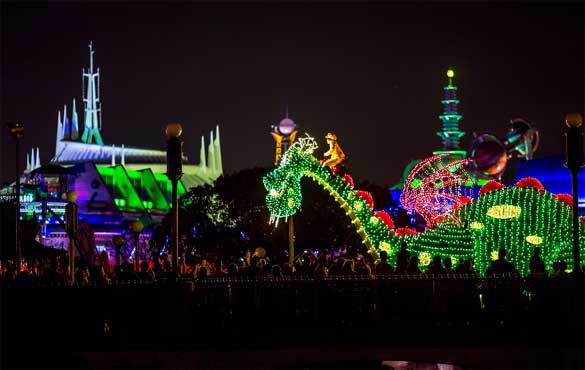 Pete's Dragon – Photo © Samantha Decker
When you're ready for some thrills, Florida won't disappoint – especially if you're planning to visit Orlando. Universal Orlando offers two of the world's greatest theme parks – Universal Studios and Universal's Islands of Adventure – located alongside of each other. Here, park visitors can ride along with Harry Potter, Spiderman, and Shrek on some fast and high flying adventures.
Walt Disney World also provides rides and shows at all of its four local theme parks. These include the Magic Kingdom, Epcot, Hollywood Studios, and the Animal Kingdom Park. Disney's Magic Kingdom is well renowned as being the "happiest place on earth."
Those who aren't thrilled with roller coasters can also enjoy some fun near the famous theme parks. Both Disney and Universal Studios offer venues for shopping, dining, and entertainment. Just some of the permanent shows include the Blue Man Group and Cirque du Soleil's La Nouba.
Getting There is a Breeze
In addition to the wide variety of places to see and things to do, Florida is an easy destination to get to. The state has airports in several major cities, including Orlando, Miami, Tampa, and St. Petersburg. Summertime is also an ideal time to fly to Florida, as many of the major airlines offer lower fares to Florida during the summer months.
Those who would rather travel on the ground can also find many easy routes into Florida via train or auto. Once in the state, moving about is easy – especially when following Florida's turnpike to and from your desired locations.
With so much to do and see, Florida is a destination that simply should not be overlooked. The state offers something for everyone. Regardless of whether you seek fun in the sun, amusement park thrills, or relaxing time on the beach – Florida is waiting for you!
Steve Miller is a professional copywriter and he contributes little known travel tips to VacationRentalPros.Com