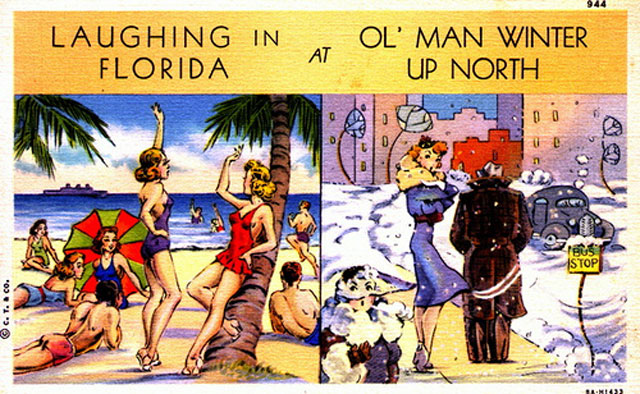 Florida Snowbird Season: Snowbirds do not head south to get away from their family and friends. They "fly" south to stay warm and enjoy retirement to the fullest.
Every December, grandparents who snowbird during the cold winter months, pack up their bags, say goodbye to their family and head for warmer weather. Once they arrive, they will call their family and friends while they are lounging on the beach enjoying the warm ocean breeze. This can leave those left behind envious as they are battling the cold weather of the northern climates.
Approximately two million American and four million Canadian baby boomers (those individuals that were born between the years of 1946 and 1964) head south every winter to reap the benefits of seasonal migration. If you have thought about becoming a snowbird or wondered why your grandparents leave their family every year, continue reading. We will take a deeper look into the life of a snowbird. Here are fifteen fun snowbird facts that you may not have known.
1. Snowbirds are people too.
The term snowbird is a nickname used to describe retirees who migrate south to warmer climates during the cold winter months. However, this term was originally used to describe the dark-eyed Junco bird. Over time, this nickname became the term used to describe retirees that migrated south during the winter.
2. The politically correct term to use for a snowbird is a winter visitor.
The term snowbird often carries a negative connotation. Those who live year round in the south often associate the term snowbird with clogged freeways, packed restaurants, and slow drivers. To avoid offending someone, use the term "winter visitor" instead of a snowbird.
3. The term snowbird has been used for more than 100 years.
The first time the term snowbird was used was in 1923. This term was used to describe seasonal workers who traveled south during the winter months for work. By the year 1979, the term was used to describe retirees who migrated south during the winter months to escape the cold.
4. Most international snowbirds are Canadians.
Approximately fifty percent of snowbirds live outside of the United States. Additionally, four out of five international snowbirds hail from Canada.
5. There is actually a Canadian Snowbird Association.
The Canadian Snowbird Association is a nonprofit group of more than 80,000 snowbirds. Most of the members are 65 years old or older. The group works to defend the rights of Canadian snowbirds while they are traveling, living abroad temporarily or living at home.
6. Snowbirds may eventually become sunbirds.
After years and years of practicing the snowbird migration patterns, many snowbirds will eventually decide that they want to make their southern home their permanent residence. When this occurs a snowbird then becomes a sunbird. Sunbirds live year round in the south and travel north for a few months out of the year.
7. Snowbirds have a lot to do before they head south for the winter.
If you thought packing for vacation was difficult, imagine packing for three or four months. A snowbirds checklist will include winterizing their home, changing their address with the postal service, registering their car in their winter home, packing important insurance and tax documents that they may need, ordering their prescriptions and much, much more.
8. Snowbirds who live in an RV create white cities.
Snowbirds often winter in RV parks in the south. Many of these RV parks in the south rely on the revenue snowbirds bring during the winter months. These RV parks are often referred to as white cities because of the coated white tops of the RVs that snowbirds winter in. One well-known white city is Quartzsite, Arizona.
9. Snowbirds have special newspapers and magazines.
There are several snowbird publications including the Winter Texan Times, Snowbirds Gulf Coast Magazine and Snowbirds RV Traveler Magazine. These publications provide information that is useful to seasonal travelers.
10. Most snowbirds have a reason for migrating to warmer climates.
As you age, the risk of slips and falls become greater. Falling on ice, shoveling snow and the cold weather can greatly impact the health of a retiree. Additionally, the cold weather can make it difficult for retirees to participate in healthy habits such as walking or riding a bike. Traveling south allows retirees to stay active and avoid injuries.
11. Baby boomers are considered the majority of the snowbird population.
Although snowbirding was originally only available to the elderly and those who were wealthy, today, many snowbirds are between the ages of 50 and 69. The snowbird population is typically active, well-educated and often wealthy.
12. Snowbirds do more than lie around the pool while they are wintering in the south.
Snowbird groups like the Canadian Snowbird Associations are quite active. They have annual events and meetings in the southern states. These events may include social mixers, live entertainment, fun activities and informative sessions on the snowbirding lifestyle. Often times, snowbirds will consult local city guides like Must Do Visitor Guide to discover new and fun things to do around town.
13. Snowbirds in Texas are called something else.
Texas residents call snowbirds winter Texans. Texas loves their snowbirds and cater to them by providing entertainment and activities with their winter Texans in mind.
14. Some snowbirds own a vacation home that they rent out when they return home.
Between April and October, snowbirds move back north and rent out their winter home. This works out perfectly as families often travel south for their vacations.
15. Most snowbirds are in better health.
According to a study of the elderly in Florida called "Snowbirds, Sunbirds and Stayers, approximately 63 percent of snowbirds rate their health as very good or excellent. Those who do not migrate reported their health as poorer.