From beaches to skyscrapers to that iconic harbour, as far as cities go, Sydney has a broader repertoire than most. Though two days is hardly enough to scratch the surface of any big city, if you find yourself in the enviable position of having a spare 48 hours in the Harbour City during your Australian travels, there are plenty of ways to spend it.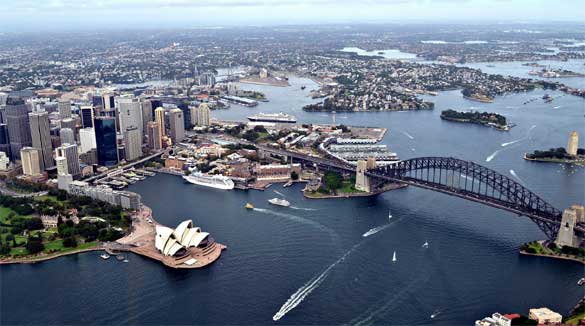 Sydney Harbour Bridge and Sydney Opera House. Image source Flickr by paulhypnos
Here are some guaranteed highlights of a 48-hour sojourn through Sydney – though we should warn that it may well leave you wanting more.
Morning, Day 1: The CBD and Bondi
Make your way down the city's main street, George Street, to delve into the unique streetscape of Sydney. Though not the city's prettiest boulevard, its range ofstores, cafes and eateries will give you a taste of the peculiarly Asian-Australian flavour of Sydney. The Strand and Queen Victoria Building are both grand 19th-century buildings offering a contemporary range of high-quality goods, well worth browsing.
Heading towards the water in true Sydney style, you'll end up at Circular Quay, an entertainment and dining precinct near the Museum of Contemporary Art and, more famously, the Opera House and Harbour Bridge. Board a ferry heading towards Taronga Zoo, and enjoy pristine harbour sights along the way.
Afternoon, Day 1: Taronga Zoo
Where better to become acquainted with Australia's distinctly unique wildlife – yes, kangaroos, koalas, echidnas and more – than the world-renowned zoo of Taronga? Perched on an enviable site overlooking the harbour, and with a rich diversity of wildlife even beyond the Australian classics, you could well spend entire days here.
Evening, Day 1: The Rocks
For more sophisticated sights, look no further than The Rocks. A gentrified, quasi-European area with distinctive 19th-century terraces, The Rocks is a distinctly Sydney spot perfect for a meal or a drink or just general people-watching the balmy summer nights away.
If you're not too exhausted from your busy day, a staircase here will lead you up to the Harbour Bridge for a night-time stroll along its length, with city views you'll never forget.
Morning, Day 2: Hyde Park and the Sydney museums
Take a walk through one of the city's most tranquil stretches of parkland at Hyde Park, with its fascinating memorial a testament to Australia's Anzac military history and, further down, the grand St Mary's Cathedral.
Next, take your pick from the city's impressive offering of museums and galleries. Natural history focussed Museum of Australia is just across College Street, while Hyde Park Barracks is a World Heritage Listed site crucial to understanding the city's convict origins.
Afternoon, Day 2: Bondi Beach
One of the most famous beaches in the world, Bondi is a favourite among Sydney locals and visitors alike. Take a swim in its famous blue waters or claim a spot along its busy sandy shores with your towel, before enjoying lunch at one of the eateries along its adjacent boulevards.
If you prefer quieter beaches, the equally pretty though lesser-known Coogee isn't far away
Evening, Day 2: Darling Harbour
One area of Sydney that certainly comes alive at night is its glimmering Darling Harbour, particularly the bars and restaurants along Cockle Bay, with its waterside, party atmosphere.
For cheaper dining options, Chinatown is a twenty minute walk away, offering a range of Asian cuisine styles to cater for every budget. On the eastern side of George Street, the trendy Surry Hills area has a suite of bars to choose from as well as perfect choices for Sydney accommodation: places like the Cambridge Hotel will generally be cheaper if you stay for more than two nights.
Linda Campbell is a freelance writer who loves being a tourist in her own hometown by exploring all that Sydney has to offer. Sometimes she likes to check out Surry Hills accommodation and stay in a hotel for the night – she deserves it, after all!