As if the effervescent city of Amsterdam wasn't exciting enough already, every year on the 30th April, the Dutch capital and the rest of the country gets their party shoes polished for a celebration that has been going down since the 1800s. Queens Day is an entirely flamboyant annual event that is held in celebration of the Queen of Holland's Birthday, her coronation and the arrival of Princess Wilhelmina as well.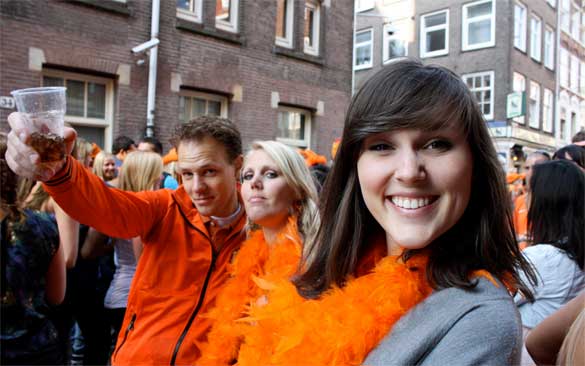 Image source Flickr by Berkeley Study Abroad
And in true Dutch form, the party starts early the night before, bringing in a sea of orange as the revelry continues way into the night and early morning hours of the 30th. Oranje bitter (a bit like orange flavoured gin) flows like water, and the streets and canals come alive with vibrant splashes of orange – the Dutch national colour. Boats are dollied up to come to the party and everywhere from the canals to the cobbled streets and shop windows are gearing up for one of the best events of the year.
If you are up for one of the biggest Dutch parties on your tour of Europe, then this is the one to get to. Join almost a million other visitors who descend on the city ready to get in on the merriment. Part of the festivities include the legendary Vrijmarkt, or free market, which because of it being a special occasion and a public holiday, no traders are required to have trading permits, means you can bet there are some very interesting stalls and characters selling everything from stuff stored away in the back of the cupboard from last year, to unwanted Christmas gifts to delicious homemade fare.

Image source Flickr by Natali Antonovich
One of the best parts – it's hard to choose one – is the food. There are loads of stalls set up all over the city with mouth-watering delights and as many as possible sticking with the orange theme. Feast on orange cake, orange soup (butternut and pumpkin), vla (custard), orange jelly shots, lots and lots of champagne and orange juice, cheesy orange pizza and orange and carrot salad, all washed down with generous helpings of the ubiquitous oranje bitter.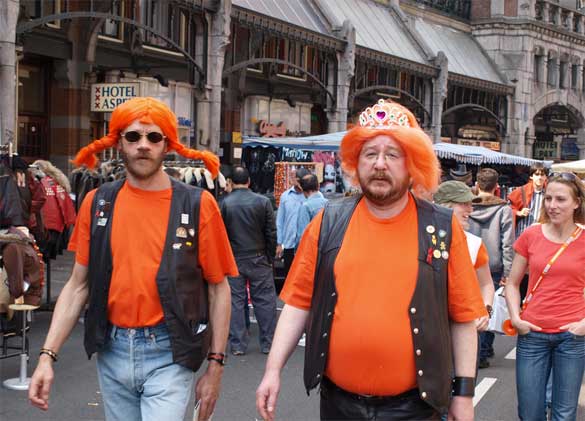 There is music, festivities, food and entertainment spilling out from every building in the city during this festive season in the Netherlands; just make sure you book your accommodation well in advance, you don't' want to miss out on this amazing local and traditional dutch celebration that only comes around one a year.
Candice writes for TravAddict, and travels to Europe often.