Where to Shop at the South Rim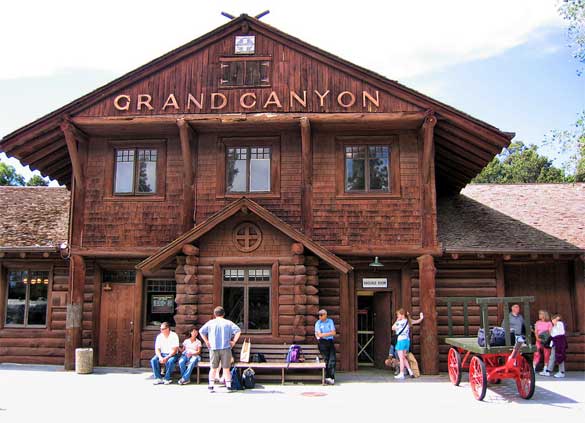 El Tovar Hotel Gift Shop: This is on West Rim Drive in Grand Canyon Village. These are more upscale gifts and souvenirs, like exclusive resort wear and one-of-a-kind Indian jewelry. Find original artwork here, and pottery.
Hope House: Also on West Rim Drive, just east of El Tovar. This was created by Mary Elizabeth Jane Colter as a showcase for Indian crafts, the first gift shop in Grand Canyon Village. Artisans set up their wares here, and on the second floor you can see a gallery of Native American artwork.
Verkamps's: This is near El Tovar in Grand Canyon Village. Look here for cheap, tacky good souvenirs, the kind most people are looking for. Lots of fun!
Bright Angel Gift Shop: Located inside the Bright Angel Lodge, this gift shop has the usual Native American jewelry, pottery, t-shirts, but it also has something else: the history room. Here you can learn about the Fred Harvey Girls, and view the beautiful Colter-designed geological fireplace. Fred Harvey was a marketer of Native American arts crafts in the late 1800s. You can learn all about the Fred Harvey Trading Company and his Harvey Girls here in the Bright Angel Lodge Gift Shop's History Room. Also on view are Harvey Girl-era memoribilia.
Lookout Studio: This is perched on the edge of the Grand Canyon in another Colter-designed building that fits right in with the geological surroundings. A photographic studio, Lookout Studio now sells photographic prints and other artwork. Get your hats, t-shirts, jewelry, fossils and rocks here too. As good a spot as any!
Desert View Watchtower & Trading Post: Yet another Colter building, this one is beautiful, and offers fantastic views of the Grand Canyon. On your way up the steps to the top of the tower, you can view artwork by Fred Kabotie. On sale here are Native American themed souvenirs and Park-related items as well.
Yavapai Curio Shop: This is open year-round and features Native American pottery, crafts, t-shirts, and jewelry.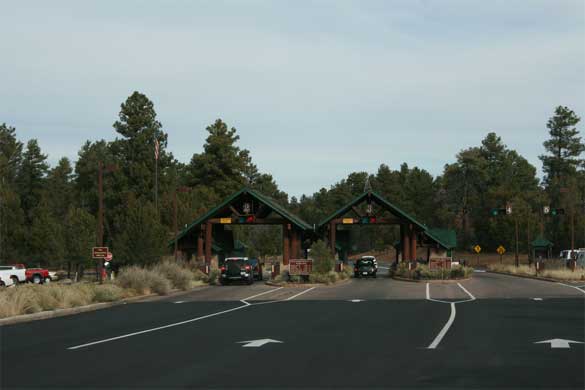 Entering Grand Canyon image source Flickr by dp6472000
Where to Shop Outside Grand Canyon's Rims
In Williams: Try the Turquoise Teepee on Route 66 for Native American jewelry and Route 66 paraphanalia.
Cameron Trading Post: The Cameron Trading Post is loated an hour's drive east of Grand Canyon Village but only a half hour drive outside the National Park boundary, on Route 64. They have more than the usual gift shop, with baskets, rugs, and more expensive serious art items not found at typical souvenir shops at the Grand Canyon. Check out the sandpaintings and the Kachina dolls. They even have a restaurant, post office, butcher shop, and cafeteria! It's a historic trading post, almost a century old, which may be why there are all these extra amenities. There are lots and lots of Navajo and Hopi (Arizona tribes) items for sale here, as well as items from New Mexico's Zuni and Pueblo Indians and Plains Indians beadwork and Old West memoribilia. There is antique Native American jewelry on display here. Special note: there are Triassic-era dinosaur tracks of the the Cheirotherium in the sandstone walls and floors of the Gallery here.
Belinda Mills is travel writer who is currently living in Key West.