A sunny day outside would be a great time spent fishing or just cruising with friends and family. A vacation or weekend getaway would surely be memorable if you get to do fun water activities with the group. If you don't have your own boat though, you would end up having to rent one every time you want to go for a ride on the waters. Why not invest on your own inflatable boat instead?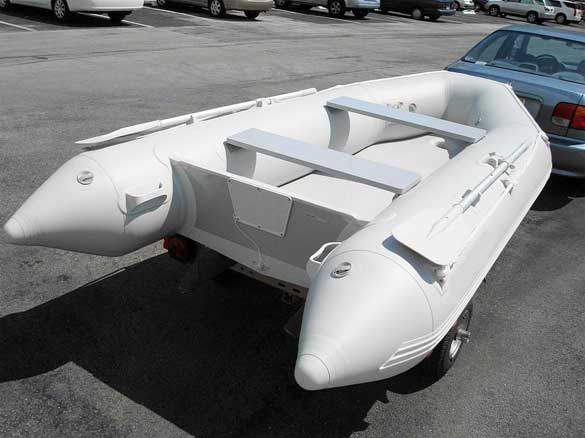 Photo Credit: Andy Lee
Boats last 12-15 years depending on the location on where it's stored and where it's usually used. But this is already a long time for you to enjoy all that you would want to do on the lake, river or ocean with those close to you. It's time to get up and buy your family an inflatable boat. But with the wide range of products available, how would you know which one to get? These are the questions you need to ask:
1. What will you use it for?
Are you and your friends into water sports or does your family enjoy fishing and cruising trips? You need to determine what usual activities you will be using the boats for to know which appropriate one to get. Also know where you'll most likely use it. Will it be on a lake, a river or the ocean? There are also different types of boats that work best in these different types of condition.
For simple water activities like fishing done in protected waters, a basic inflatable boat will do. If you'll be doing intense activities though, a sports boat would be a better option. Another good thing to consider when buying a boat are Rigid Inflatable Boats or RIBs. These provide exceptional performance and those made of Hypalon are ideal for extremely hot weather because of their high resistance to UV rays.
2. How many people will use it?
How many are you in the family? And how many friends do you usually go on trips with? In knowing the possible number of people who will be using the boat, you'll know what type to get. A soft-stern inflatable boat for example can only carry two to three adults. Aside from the number of persons riding the boat, you also need to consider the gear you need to carry on the boat. RIBs have the capacity to load lots of gear.
3. Where will you store it?
It will be good to consider the storage you currently have to determine what type of inflatable boat you can accommodate in your space. If you have a limited space in your property for storage, it will be convenient for you to get one that is easily foldable and one that doesn't occupy a lot of space. Unlike other types of boats though, inflatable ones are not very hard to store. But it would still be good to check on each type to know which one can be the most convenient to store in your available space.
The sun's heat and harmful UV rays are one of the main causes of a boat's deterioration so it's best to have a storage with a cover. If you don't have it, make sure to get a boat with a high resistance to heat.
4. What are your means of transporting it?
If you have a trailer it will be easy for you to transport a boat and you can basically get any type that fits your fancy. If you don't, it might be good to get one that's also easily inflatable and foldable. There are inflatable boats you can easily fold into a compact size. Get these and not those with a stiff flooring.
When it comes to RIBs as there are also many different kinds, make sure to get the folding kind. This easy to transport RIB can be folded flat because of the fabric hinge connecting the floor to the transom.
In getting the perfect inflatable boat for your water adventures, it's vital to ask yourself these four questions. Consider all these factors first before pulling out your credit card. With the right choice you can be sure that you are making the right investment. With the right inflatable boat you're also sure to have fun with family and friends anytime you want to.
By Debra Wright
Debra Wright doesn't say much, but when she does, she prefers to write it down. Among the things she's written are helpful how-to's and interesting insights on boats. If you'd like to learn more about recreation and lifestyle, follow Debra on twitter @debrawrites…