Liuzhou city, also known as "Dragon City" and is the second largest city in Guanxi. Until recently, Liuzhou was most famous for two unusual objects – coffins and stones.  Its coffins were made from local top quality wood –and the Chinese had a saying"Be born in Suzhou, live in Hangzhou, eat in Guangzhou and die in Liuzhou." Although said in jest, as the most attractive Chinese are from Zukhou and Hangshou is the prettiest city, it is a little dark for Liuzhou.
In May 2013, however, it was announced that seven new shopping centres with a total investment of 42 billion yuan ($6.85 billion) were to be built in Liuzhou. This is a reflection of both Liuzhou investment bureau desire to create thousands of jobs, and also the explosion of retail expenditure.
The seven projects have been backed by 6 investors, including China's top real estate developer, Wanda Group.  Intended as a one-stop shopping extravaganza The Liuzhou Wanda Plaza will feature various shops, restaurants, along with entertainment and sports venues. It will be located in Donghuan Road. Investors believe that shopping complexes like this bring together business people, hotel guests and locals in one commercial mixing pot.The Shenzhen-based Overseas Chinese Town plans to build a Culture Complex, including a high-tech park and a water theme park, scheduled to open to the general public in May 2015.
If your business or leisure is taking you to Liuzhou soon be sure to stay in one of the few quality hotels near Liuzhouand go for a wander through the best shopping malls that are open currently – and maybe find a miniature coffin to take home as a gift to bring fortune and career advancement!
The Best Malls to Visit Right NOW?
New Times Shopping Mall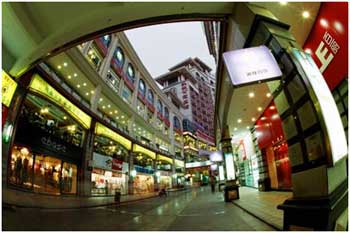 Photo credit: tripadvisor.com

In typical Chinese style, the people of Liuzhou love their gigantic malls. This centre is no exception with over 4000 shops and 16 categories of stores. It houses a large range of brands of men's wear, women's wear, sports and leisure apparel, knitwear, suitcases and leatherwear. In essence, you go here for the widest selection of clothes – from well-known brands to a few local collections.
Yinzuo Shopping Centre
7 floors of stores for fashion conscious youth – needless to say, teenagers and parents of teenagers alike are able to make multiple purchases here.
Wuxing Commercial Street
Wuxing Commercial Street is in essence the heart of the retail centre.  Along this street you will find Ginza Department Store, several restaurants and with the same name, theWuxing Shopping Centre which was established in 1952. This is the place to go for all your wholesale, dining and international brands.
Fei'e Commercial Centre
Between the Liuzhou Railway Station and Jiahe Crossing at the Fei'e Road Business Area, there are several large-scaled wholesale markets and shopping malls. This particular centre specialises in mid-price everyday products, along with wholesale shoes and banks. Interestingly, despite being fairly "run of the mill" the centre has actually been awarded as the best civilization market in Liuzhou.
Gubu Street, International Mall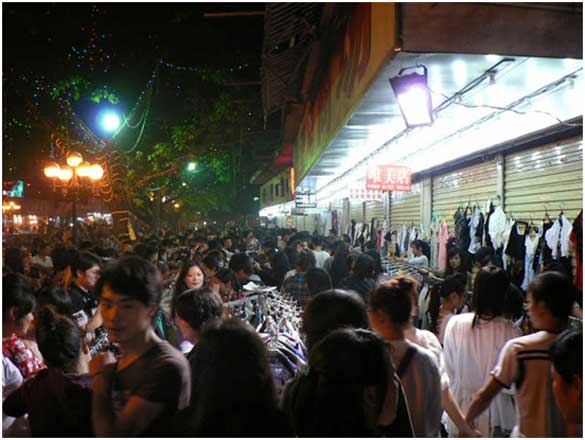 Until the completion of the next generation of shopping malls, Gubu Street remains the largest scale shopping centre in Guangxi Province. It combines shopping, entertainment, tourism and business offices in the one area. And if being right in the mix of things is your style you could actually live here. From large scale department stores to books, supermarkets and cafes – this place has it all.The daytime shopping mecca turns into a frenzy of markets at night-time. Of course, never knowing what you might discover just adds to the adventure.