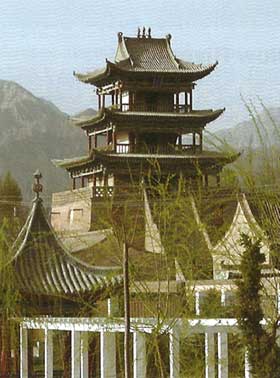 Yuhuangge Building Complex

The Yuhuangge Building Complex is located north of Heyin Town, the county seat of Guide, 110 kilometers from downtown Xining. Construction of the building complex began in 1592 during the Ming Dynasty. It is now a historical site under the protection of the Central Government. On its premises are the Confucian Temple, Lord Guan Yu's Temple and the Wanshou Taoist Temple, also known as Yuhuangge, or the Pavilion of the Jade Emperor.
Tablet inscriptions and murals in this large building complex are all valuable cultural relics under the protection of the provincial government. A Chinese couplet reads: "The Yellow River surges on the northern side of Yuhuangge; the towering Yuhuangge rises up to the clouds." With its neat layout, the ancient building complex is a symbol of equality, interdependence and the unity of Confucianism, Taoism and polytheism.
Transport: Take a bus from the Xining Long distance Bus Station to Guide County.