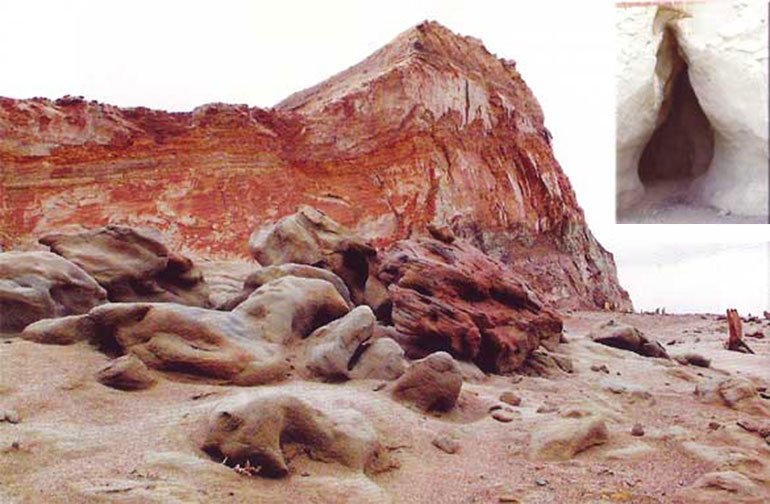 ET Site at Bayinnuowa Hill: The 200-meter-high Bayinnuowa Hill stands by the beautiful Toson Lake on the Delingha Grassland. There is a mysterious cave in the hill at its bottom, triangular and lined with pure sandstone. It is speculated that the cave was chiseled out by human beings. A large number of iron pipes of various shapes scatter in the cave on the top of the hill, and in an area of about 500 square me­ters on the lakeshore.
No one knows what these pipes were used for. The extraordinary stones by the lake are all in geometrical shapes and have traces of being cut out by humans. No one knows when and why these were created, or who left them there. So the site is called "ET Site" for the time being.
Transport: Take a taxi from Delingha City. It is about one-hour drive.
Nearby Attractions
Many tourist attractions center on Xining, the provincial seat of Qinghai.
During the hot summer months, many tourists from the hot Southern and Eastern parts of China travel to Xining, as the climate of Xining in July and August is quite mild and comfortable, making the city an ideal summer retreat.
Qinghai Lake is another tourist attraction, albeit further from Xining than Kumbum Monastery. The lake is the largest saltwater lake in China and is also located on the "Roof of the World", the Tibetan Plateau. The lake itself lies at 3,600m in elevation. The surrounding area is made up of rolling grasslands and is populated by ethnic Tibetans. Most pre-arranged tours stop at Bird Island. An international bicycle race takes place annually from Xining to Qinghai Lake.
Hope you enjoyed reading about "ET Site at Bayinnuowa Hill by the Toson Lake". Please do share your thought in the comment section below.