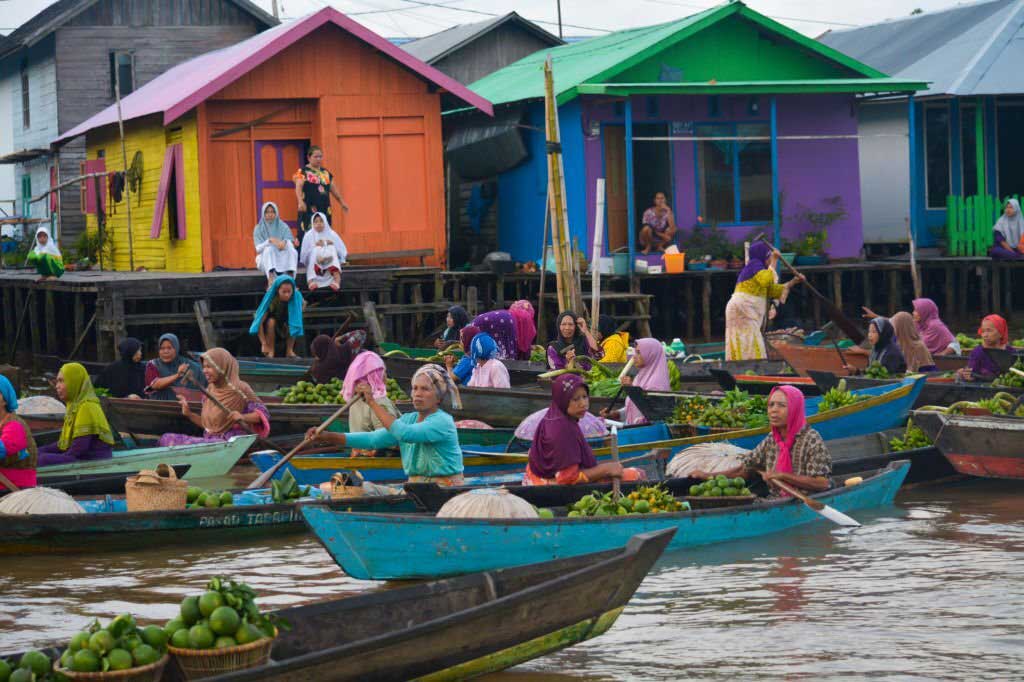 Adventure in Banjarmasin: Banjarmasin, a city best known for fitting names such as "City of A Thousand Rivers" or "Venice of The East", is a stunning city with rivers coursing through its heart that captivates locals and tourists. The city is best known for its sacred mosques, floating markets, national reserves, food, and warm hospitality. Banjarmasin may seem a little exotic for travelers but it is the ideal place to go to when you're planning on experiencing something new and untamed.
When thinking about Indonesia, what's the first thing that comes to mind? Amazing mosques, a country closed off to tourists, or simply, the beautiful stretch of white sandy beaches, hidden away from all? Banjarmasin, although isn't close to any stretch of beaches has its own share of beauty, hidden in the city. The city is located on a delta island, near the intersection of the Barito and Martapura rivers. The city's so-called "landmarks" are the city's vibrant floating market that takes place from early morning to mid-noon. Flocks of canoes will appear on the western outskirts of the town as buyers and sellers meet to exchange and purchase goods. This is a great location to go and snap authentic photos of a floating market that isn't commercialized due to excessive advertisements. There are also Banjarmasin canal tours available as well for those interested.
If you're coming to Banjarmasin to admire the beauty in its stones and gems, you've come to the right place. The city is famously known as the hub for gem trading, especially in rubies and diamonds. Although always keep in mind when thinking of purchasing precious stones to make sure yours are authentic. Unfortunately, there are a lot of fakes going around and many tourists get duped into buying glass stones instead. Always make sure if you can get a certification of authenticity for the gems and jewelry purchased from stores!
Perhaps you have some time on your hands and would like to get out of the city and escape into the wilderness. One of the country's best-kept secrets is Meratus Mountains. Meratus Mountains is the ideal place to go to if you're eager to be exposed to nature and for a day or two, live under the stars. Some people call this area 'The Virgin Forest', housing a variety of tropical flora, fauna, and the local tribe. The rivers are crystal clear and they're ideal for rafting as well.
It's all about tours once you arrive at this beautiful riverside city. To help you start planning the perfect vacation in Banjarmasin, one of the recommended hotels to book in the local Golden Tulip Galaxy hotel. It's a 4-star hotel and it's extremely close (and convenient) to notable attractions within the vicinity.
Hope you love reading "Planning the Perfect Adventure in Banjarmasin". Share your view in the comment section below.