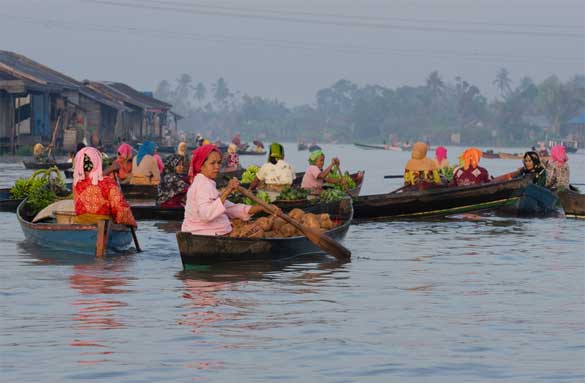 Traditional river floating market in Banjarmasin – Photo by green.pit
Banjarmasin, South Kalimantan, Indonesia was established on September 25, 1526 at the confluence of two rivers which gives the city its name, 'City of A Thousand Rivers'. Banjarmasin is a quiet city, surrounded by water and its native natural beauty. Its beauty comes from untouched forests and its rivers that spark to life every morning from the floating river markets. Although the city is not a tourist hotspot like Jakarta, Banjarmasin is the perfect place to be to experience nature and its friendly folks.
Banjarmasin, although it is not a centralized tourist hub does have places where tourists shop. The city is best known for its beautiful gems such as diamonds and rubies, extracted from the outskirts of the city. The best place to shop for precious gems is at PondokOlehOleh Bang Fajeri. This place also sells batik fabric (both men and women) and clothes, for those looking for something local. Or if you rather go directly to the source of the gems, go to the city of Martapura in South Kalimantan. At Martapura, there is a wide assortment of gems, bracelets, rings and necklaces available. As the gems are beautiful and stunning, always be careful of shady people approaching you. Always purchase items directly from the store to ensure that the items you are buying are in fact, authentic.
If you are not comfortable with haggling with shop owners, you can head off to the Cahaya Bumi Selamat shopping center. You can always ask the seller to inspect the grade of the diamond for the best price available. Be ready to pay a hefty amount for the diamonds though.
Duta Mall is one of the largest malls in Banjarmasin. Like any department store, there are places to dine and shop to your heart's content. It even has its own movie theater called Cinema XXI. It's recommended to research for hotels near Duta Mall, just in case you crave Western food or would like to indulge in fascinating local menus. The best place to try a fusion of cuisine would be at the food court; it's spacious and bright and gives you the opportunity to sink your teeth into every dish available!
What's there to shop? There are handfuls of sales going on each month with discount prices soaring to 50% off. Clothing-wise, there are items for toddlers to infants, girls to women and boys to men. Don't only think that you would only find 'Indonesian' clothing at this mall. Duta Mall also has the latest Western fashions for its locals and tourists as well.
Shopping-wise, regardless of where you are, is pretty cheap in Banjarmasin compared to Jakarta. If you swerve off the main shopping destinations such as in malls, expect to pay a lot. However, if you're more of the adventurous type, head over to any open market and mingle with the locals. There's always things to buy such as souvenirs and food that you simply can't get anywhere else in the world.