Indonesia is a traveler's delight. You'll need more than a life-time to completely explore the whole Indonesia. There is so much to do and see here that you'll be kept busy all throughout the day. Listed below are a few best things to do in Indonesia.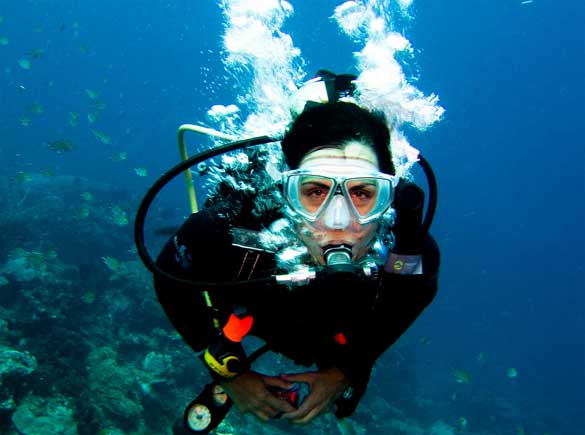 Photo Credit: Ilse Reijs and Jan-Noud Hutten…
Diving and Snorkeling
Home to over one fourth of the planet's marine life, the Indonesian Island chain is renowned for its world-class diving and thrilling under-the-sea beauty. Dive in and discover an ocean swarming with all kinds of marine life, from Raja-Ampat in Papua to Weh Island in Sumatra. Whether you are a skilled diver searching for a new challenge or just would like to try out your hand at scuba diving for the first time, the tropical oceans of Indonesia won't disappoint you.
Adventure trips
Trekking, kayaking, surfing, mountain climbing – these are only a few of the many exciting activities in Indonesia. From Whitewater River rafting down the rapid waters of the Maiting-River in Sulawesi to hiking the peaks of the famous volcano at Krakatau, Indonesia has ample fascinating activities to keep an adrenaline buff busy. Get off the usual track in the rainforest in Kalimantan where you'll meet the Dayak people, look for wild animals and go close with orangutans.
Visit to traditional villages
As a country with more than 350 ethnic groups, the cultural and social diversity of Indonesia needs to be explored. Come across unique cultures and experience traditional life in Indonesian Island with a trip to one of the many local villages where inhabitants maintain native cultures, living like their ancestors did hundreds of years ago. The key attraction of these villages is the opportunity to see and experience cultures and lifestyle which remain totally free from the influences of modernization.
Dining
With regards to Indonesian food, variety is certainly what is on offer. From hot and spicy meat curries to deep-fried banana to refreshments of iced grape and jelly – food in Indonesia is extremely varied. The luxurious hotels do offer first class dining experiences from Western recipes to Indonesian dishes, or you can simply enjoy freshly caught sea food served right on the beach front.
Sightseeing
There's a lot of exciting places to see in Indonesia. Jakarta, Kalimantan, Lombok, Sulawesi Island, Sumatra Island are loaded with countless sightseeing attractions. Bali, Lake Toba, Mount Bromo, Torajaland, Tanjung Puting, Gili Islands, Bukit Peninsula, Tembok, Sumatra, Komodo Park are some major attractions.
Visit to mines in Sumatra Island
Indonesia remains an important player in the international mining industry with substantial production of coal, gold, copper and tin. Mining Indonesia contributes a lot to the national development. The major mines in Sumatra Island are Ombilin, The Grasberg Mine, The Batu Hijau mine and Sebuku. Ombilin is located on the west Sumatra region and The Grasbergy Mine (3rd largest copper mine in the world) is located in Papua. The Batu Hijau mine is a open-pit copper gold mine situated on Jakarta. Sebuku mine is the largest coal producer in Indonesia which produces over 3 mil tonnes of coal yearly.
Rachel is a passionate blogger and explorer and loves writing about travel destinations.