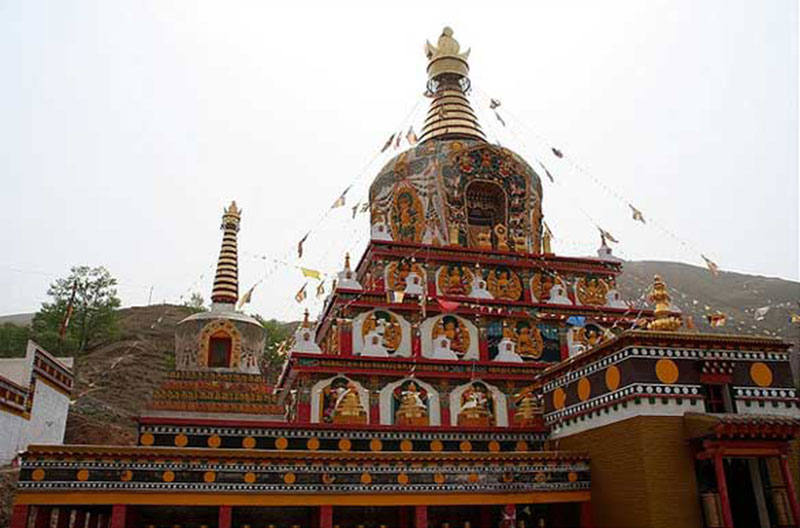 Wutun Temple: The temple in Wutun Village in Tongren County comprises two sections, the upper temple and lower temple, one kilometer apart. It is one of the four Buddhist temples in the area which are collectively known as the "Four Temples of Longwu," the other three temples are the Duhu Temple, Guomari Temple and Wuke Temple.
The Wutun Temple has the largest collection of masterpieces of the "Regong Art." The murals, applique embroidery, colored paintings and sculptures the temple retains all are great artistic works.
Transport:Take a long-distance bus from Xining to Tongren.
Wutun language
The Wutun language is a Chinese–Tibetan–Mongolian creolized language. It is spoken by about 4,000 people, most of whom are classified as Monguor (Tu) by the Chinese government. Wutun speakers reside in two villages of Tongren County, eastern Qinghai province, China. It is also known as the Ngandehua language.
The two Wutun villages, as well as other villages in the area, were under the control of a Mongol banner for several centuries, and have long been regarded by governments as members of a Mongol ethnic group. However, they self-identify as Tibetans.
Today's Wutun villagers do not speak Chinese, but the knowledge of Tibetan is common both in Wutun and in Tongren County in general, as the Tibetan language is the lingua franca of this multiethnic region, which is populated by Tibetans and Hui people, as well as some Han Chinese and Mongols.