Oklahoma City- Photo Credit: Paul L. McCord Jr.
If you are looking for a vacation destination that you never considered before, then look no further than Oklahoma City. Since the early 1990's, the city has had more than $5 billion invested into improvement and it certainly shows. So swing by an area Oklahoma City credit union and be ready to help stimulate this growing economy because there is so much to see and experience in the city you will be completely amazed.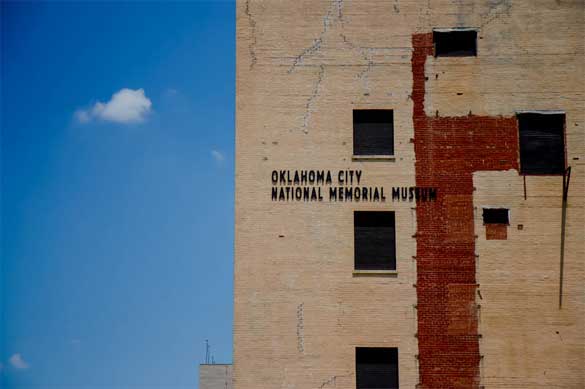 Oklahoma City National Memorial & Museum – Photo Credit: nickschaider
Oklahoma City National Memorial & Museum
While it may be a somber start to your trip to Oklahoma City, it is one that is moving and is ranked the number one attraction in the city on Trip Advisor. The Oklahoma City National Memorial & Museum takes you back to April 19, 1995, a seemingly ordinary day that turned into one of terror when the Alfred P. Murrah Federal building was bombed. Each year, more than half a million people visit the memorial and museum. In the field, you will see empty chairs, one for each life lost that day. The grounds of the memorial are free to walk around, but entry into the museum is $12 for adults; $10 for Seniors, Military, and Students with ID; and children 5 and under are free.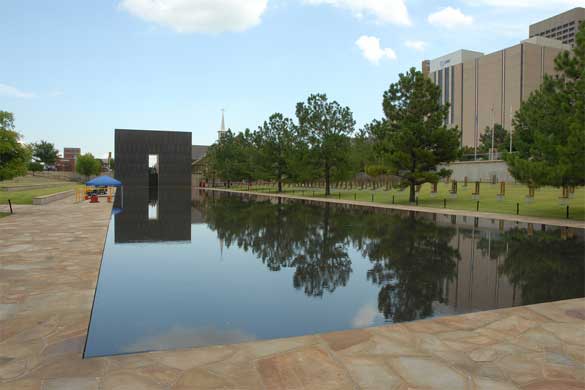 Oklahoma City National Memorial & Museum – Photo Credit: Maddog Feng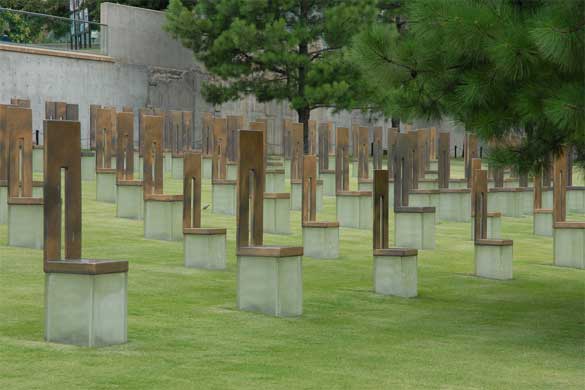 Oklahoma City National Memorial & Museum – Photo Credit: Maddog Feng
Bricktown Entertainment District
For something a little more upbeat, Travel OK suggests heading over to the destination for entertainment, nightlife, and dinning—Bricktown Entertainment District. There is so much to do in this area! Try taking a water taxi tour of the area down the Bricktown Canal to get a real feel for the area. Then, wander the brick-paved streets where you will walk past some of the most famous destinations in the district including Coyote Ugly Saloon, Harkins Theater, CityWalk, TapWerks, and Skkybar Ultra Lounge.
If it is food you are looking for than this is the district you want to be in. Some of the best dinning in all of Oklahoma City is in Bricktown. If you want something a bit high class where you may even run into a celebrity or two head over to Nonna's or Mickey Mantle's Steakhouse. If you prefer to take in the bustling activity of the district and be outside than head over to Chelino's Mexican Restaurant or Jazmo'z Bourbon Street Café, both of which offer outdoor seating. And if you are a big country music fan you absolutely must stop in at Toby Keith's I Love This Bar and Grill while visiting Oklahoma city!
The district has a slew of other entertainment offerings as well, according to Travel OK, including a dueling piano bar, a winery, and an upscale bowling alley!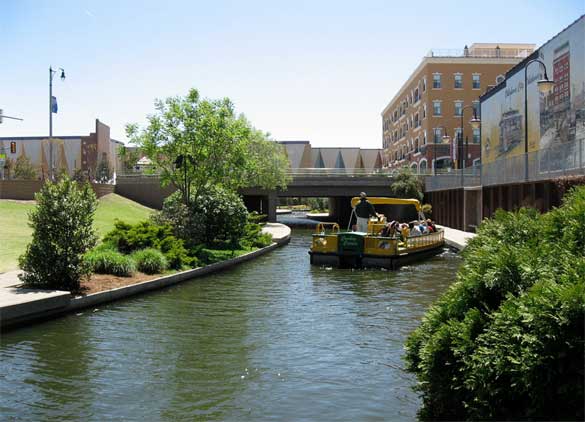 Bricktown Entertainment District – Photo Credit: James
Come and Visit Again and Again
Once you visit once, you will want to keep coming back again and again. There is something about Oklahoma city that has people running to their bank or credit union in OKC to take out more money so they can extend their stays because they never want to leave. And why would they? With so much to do and see, the possibilities are endless!
Tony has lived and worked for a credit union in OKC for several years and likes to share his experiences as well as offer some tips on things to do around the city.