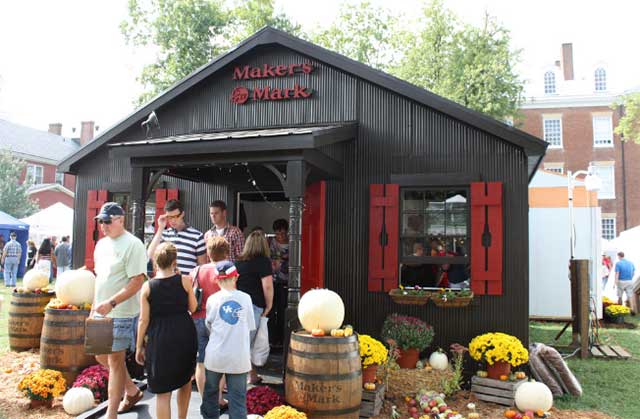 Kentucky Bourbon Festival – Photo Credit: Susan
You might have already done the great whisky tours of Scotland; from the Lowlands, Campbeltown and Islay, to the Highlands, Speyside and the Highland Park Distillery on the Orkney Isles. But if you like a drop of bourbon, or if you are developing an interest in the 'American Spirit' then you should consider jetting to Kentucky and undertaking the great Kentucky Bourbon Trail for your next holiday.
Bourbon and Whisky
Bourbon is an important part of American culture and heritage and though its history is unresolved its production was more than likely the result of European settlement in America in the 18th century; particularly those of Scottish and Irish origin. While the production process and the end product between single malt whisky and bourbon share a similarity, the ingredients differ. Single malt whisky is made with malted barley and matured in oak casks while bourbon is made primarily with corn and rye and achieves its distinctive sweet, toasted flavour and dark amber colour from the charred oak barrels it is aged in.
Ironically many of these barrels are then sold on to distillers in Scotland who might use them in variations of blends (look out for labels that say 'matured in ex-bourbon casks' next time you visit the supermarket). Fans of single malt whisky, and particularly scotch whisky, should give bourbon a try; you might be pleasantly surprised by its depth of flavour, its  character and its complexity.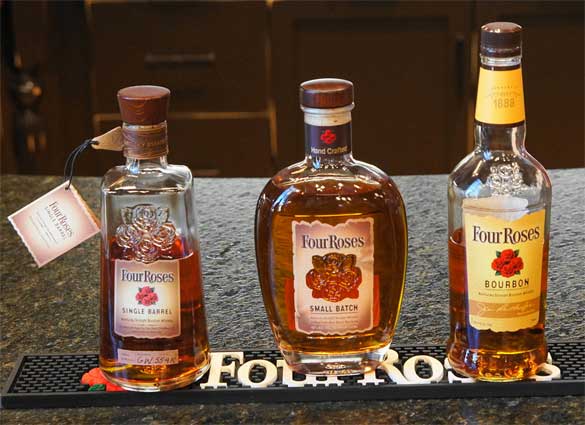 Photo Credit: Sean Hoxworth
The Kentucky Bourbon Trail
The Kentucky Bourbon Trail was founded in 1999 by the Kentucky Distiller's Association of America. Their aim is to educate people about bourbon; its history, its heritage and its production. The trail itself comprises 7 distilleries: Makers Mark is known for its smooth, accessible taste and use of limestone purified spring water, and the distillery is located in Loretto. Heaven Hill is the largest family owned distillery in America and can be found in Bardstown. The world-famous Jim Beam uses a 200 year old recipe and its distillery resides in Clermont. Four Roses is a mellow, complex bourbon with a deliciously long finish and Wild Turkey is a firm, bold bourbon with notes of caramel, vanilla, brown sugar and even tobacco. Both can be found in Lawrenceburg. Finally Town Branch Bourbon, woody and oaky with hints of toffee and cherry, resides in Lexington.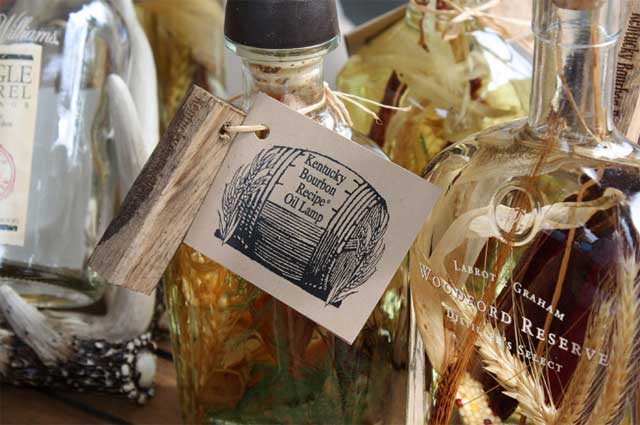 Photo Credit: Susan
A Word on Rye
There is further interest in the American whiskey market because of the Thomas H. Handy Sazerac Straight Rye, which recently scored a record equalling 97.5/100 in Jim Murray's authoritative and respected annual whisky bible. Again rye differs from bourbon and other whiskies in its use of ingredients; corn and barley feature, but with rye being the primary ingredient (usually around 51%). The Sazerac Company, who are also responsible for Buffalo Trace, can be traced back to a coffee house in the late 1860's opened by Thomas H. Handy. Among its characteristics are orange zest, leather, cherry, truffle, winter spices, ginger and black pepper, but at 66% proof (the average whisky is between 40% and 46%) it is not for the faint of heart (or palate). But with nearly 800 miles distance between Kentucky and Sazerac's distillery in New Orleans, you might be better off planning a rye visit for another holiday.
Things to Do in Kentucky
Kentucky Bourbon Trails recommend that you spend around 3 days touring, but Kentucky is such a diverse and beautiful state that you should not limit yourself. You could also visit the astonishing Mammoth Cave National Park; the world's largest known cave system with around 400 miles of tunnels to explore. Or you could discover more about Kentucky's other claim to fame; the world famous Kentucky Derby. The Kentucky Derby museum holds a number of exhibits and can be found in Louisville.
San Francisco, New York and L.A might hog the limelight when it comes to tourism, but America is a massive, multi-faceted country with many states and areas worthy of investigation. For the whisky or 'whiskey' lover though Kentucky should be first on your list of priorities. So get on your cycle, or hire a car, drive the iconic routes and start exploring this remarkable state and its fantastic heritage of bourbon.
Adam works alongside the Altnaharra Hotel, a great base for visiting the Glenmorangie Distillery. He loves to travel the world with the help of his handy Whiskey Bible!