Lake George, New York is a popular vacation destination located in New York's Adirondack Mountains. Known for it's variety of attractions that provide loads of summer fun, Lake George can actually be enjoyed during all seasons on the year. Experience the changing on the leaves during the fall months, enjoy skiing and driving on the frozen lake during the winter and relax by the water with the cool breeze that spring time brings. Whenever you choose to visit this family-friendly vacation spot, your trip would not be complete without a stay at one of the top 3 hotels in the area. Each of these hotels and resorts offer something unique that will truly make your vacation experience one of the best that you have ever had.
The Lodges at Cresthaven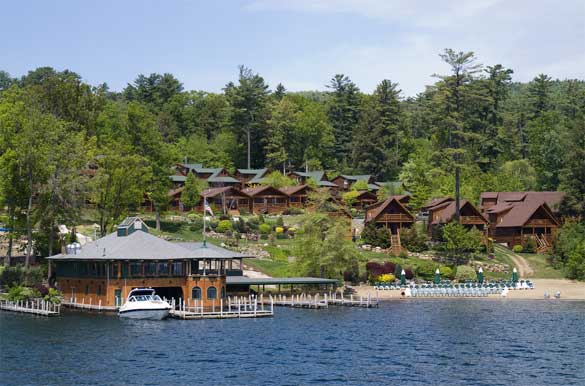 Photo Credit: Herb G.
The Lodges at Cresthaven is known as one of the best lakefront resort properties in all of Lake George, New York. This timeshare facility was once nothing more than your typical lodging option that you would find on the lake. After major renovation and a complete makeover, Cresthaven was transformed into what is now know as "The Lodges". While many who opt to vacation here are timeshare owners, visitors are not limited to just that. Rentals are available during all times of the year with pricing varying by season. So what sets The Lodges at Cresthaven apart from the rest?
Relax the day away in your very own, private cabin overlooking the gorgeous blue lake. Watch as ferry boats travel past such as the ever-popular Minnie-Ha-Ha. Lodges are equipped with at least 2 bedrooms, providing you with enough room for the whole family. Private beach access just steps away from your lodge allows you to lounge around in the sand or swim out in the water on that warm summer day. Dine at the Boathouse Restaurant, located on-site for your convenience or spend your day pool-side with a refreshing beverage in hand.
Planned activities for the whole family are available each day of your stay as well as a children's playground and much more. All of this while within close proximity of the town, where you will find additional attractions, shopping and dining experiences. This is only some of what visitors will enjoy while staying at The Lodges at Cresthaven.
Surfside on the Lake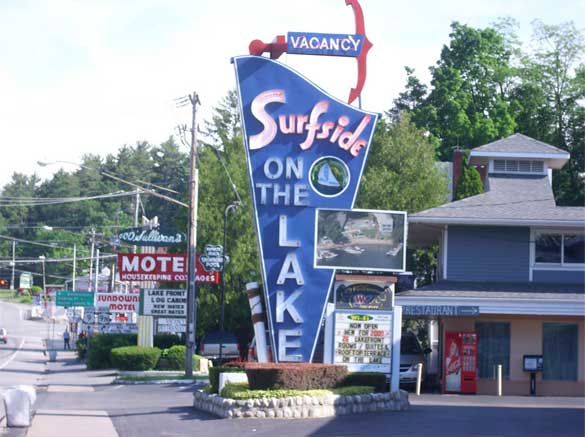 Photo Credit: Deb Ireton
Located directly within the village of Lake George, you will find the hotel resort known as Surfside on the Lake. This popular lodging option is within walking distance of popular restaurants, shops and entertainment within the area. Enjoy private beach access for hotel guests only, a rooftop terrace for relaxing while taking in the magnificent views of the lake, a spacious outdoor heated pool for fun during all seasons, a large children's playground, free kayak rentals and more.
There are a wide variety of room types that are sure to meet your family's needs and budgets. Choose anything from a lakefront suite including 3 queen sized beds to a regularly-sized room. This hotel resort is one of the best that Lake George offers guests.
The Sagamore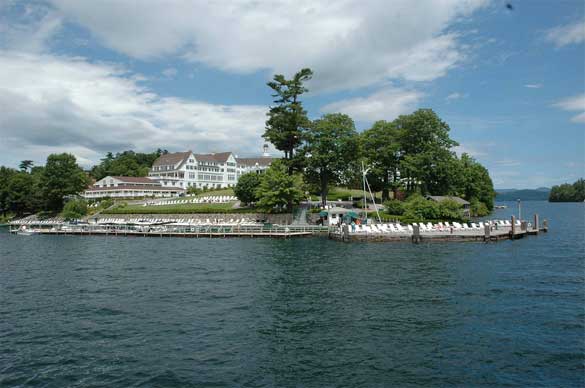 While The Sagamore is not located directly within Lake George, it can be found just minutes away in the nearby lake town of Bolton Landing. Experience the very best of Lake George at this luxurious resort that sees a wide range of guests each year, including the rich and the famous. This historic hotel is elegantly decorated both outside and within. Experience swimming, relaxing, golfing, boating, parasailing, a spa, indoor pool and fitness center all directly on-site. Luxury accommodations include HD televisions, high-speed internet and comfortable sleeping arrangements for all guests.
Kevin Caldwell wrote this article for his website www.sanfranciscohotelsguides.com. Kevin is an avid traveler who enjoys sharing his experience and knowledge with others.