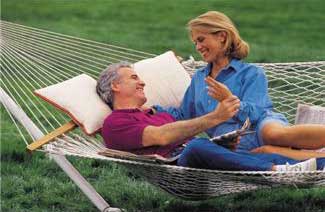 License: Royalty Free or iStock source:

Backpackers and campers around the world are quickly learning that it can be less cumbersome, less tedious, and more comfortable to carry and sleep in a hammock setup as opposed to a tent. Hammocks are, no doubt, preferable to carry around – no long poles! – and there have even been studies to prove that their designs can help you get a more restful sleep – something that's necessary on any backpacking trip. But it's not as simple as tying a piece of fabric to two trees. Experienced backpackers know that the hammock is the more desirable option only if done properly, so if you're looking to go on your first adventure backpacking trip, here are some tips for setting up for sleep.
Try Out Various Designs
Symmetrical and asymmetrical are the two standard shapes that you'll find for hammocks – you'll also find that there are singles, doubles, special lightweight designs, sleeping bag designs, and more. You're going to need to physically lay in a few different types – with a partner, if you plan on getting a double and sharing – and choose which is most comfortable for you. Some don't allow for much spine curvature, and you will probably have a preference as to how much slack you would like. If you're going to be sleeping in this thing, you have to be comfortable!
Get a Good Sleeping Bag
For the most comfortable rest, you want to moderate your body temperature as much as possible. Check the temperature rating on a sleeping bag before purchasing it, make sure that it's weatherproof, and make sure it fits nicely in your hammock. If you're sleeping in a colder climate, since hammocks keep you raised off the ground, you might want to get a sleeping bag that has a temperature rating of 20 degrees warmer than what you'd normally bring.
Invest in a Camping Pad
If you're camping in a cooler climate, you'll probably snuggle up in a sleeping bag in your hammock. But what beginners don't know is that sleeping in these setups is colder than sleeping on the ground because wind blows both over and under you. Camping pads help to insulate the bottom to keep you warmer.
Bring a Bug Net
Not bringing a mosquito net on an outdoor trip is a rookie mistake. You definitely won't get a restful sleep if you've got insects having a feast on you. Luckily, nets are lightweight and effective.
Compare Packages vs. Buying Individual Items
Many camping stores will sell hammocks with all the extras – bug nets, rain protectors, et cetera. If you do choose to buy the package deal, make sure you know that everything included is of sufficient quality and necessary to you. Don't waste money on cheap packages or unnecessary items when you can spend your money better otherwise.
John Shelton is a regular camper that enjoys sharing his stories from camping at different locations along with advice to help your camping excursion more enjoyable.