Somewhere between a tent and cabin, yurts have dotted the coasts and inland campgrounds of Oregon for years. They first made splash in 1994 when the Oregon State Parks introduced the first two at Cape Lookout, as an inexpensive way for people who were short on time and camping equipment to enjoy the park. Now over 17 other states have joined Oregon in offering this unique way to enjoy the great outdoors. In addition to the state parks, there are almost two-dozen other places to find yurt rentals in Oregon. Often mistaken for tents, yurts are stronger and more weather tight then tents, and can withstand high winds and rain making them perfect for all-season use in the Beaver state.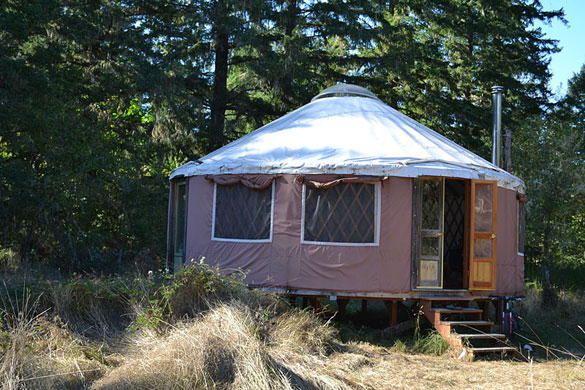 License: Creative Commons image source
Yurts have been used in central Asia for more than 3000 years and are still how many nomadic cultures in places like Mongolia live today. Usually circular in structure with a domed or conical roof, they feature lattice walls and often canvas or skin roofs. Nomadic people preferred yurts, as they were portable and durable, and could be easily packed and moved along with their herds.
Yurts were fairly unknown in the USA until 1962 when William S. Coperthwaite read an article on Mongolia in a National Geographic. Entranced by the idea that yurts could be easy for people to build themselves and modify creatively. Coperthwaite dedicated his life to finding the best way to build yurts from indigenous creators while incorporating modern designs. By 1973, Coperthwaite had started the Yurt Foundation and was spreading the gospel about yurts to anyone who would listen. In 1978, Pacific Yurts was founded right here in Oregon, and starting selling the first commercially available yurts in the country. Since then, the prevalence of yurts has expanded all over and they can be found from Georgia to Alaska, as simple backcountry rest stops to luxurious personal accommodations.
The yurts that most places in Oregon offer usually come with electricity, heat, lights and the more deluxe include options include kitchens, bathrooms, and skylights. Yurts are most often are raised off the ground, have floors, and come with mattresses, beating that air mattress in your backpacking tent any day. Yurts offer a great was to both be surrounded by nature but also be in a cozy, warm environment. Since they have such light walls and roofs, you can hear the world outside, but still have the comforts of a contained structure. Most of the Oregon State Park yurts are close to the beach, so you also get to hear the waves and ocean. Many other campgrounds and resorts around the state offer yurts as a way to get closer to nature without sacrificing comfort.
So no matter the season or weather, a yurt will keep you warm from rain, close to the earth, and sleeping like baby. If you're tired of camping the same old way, and want to experience the beauty of Oregon's ocean beaches, majestic mountains and verdant forests, try booking a yurt for your next adventure.
E.H. Rossman is a freelance travel writer located in Portland, Oregon. He learned about yurts from the owners of Phoenix RV Park who own an rv park in Salem, Oregon.