Steps To Avoid Over Packing: We've all been there – where our suitcases weigh well over the allotted 50 lbs. at most airports and your carry-on is simply exploding. Over packing is a problem with most people and understandably – we'd rather have everything and avoiding forgetting something we really need while away from home. Whether you're taking a road trip to your favorite concert or are exploring the tropics or taking advantage of Patagonia vacation packages… regardless of the weather and point of your trip, it's important to avoid overpacking while keeping from underpacking. Finding that happy medium can be tough but it's important to stay organized throughout your trip and avoiding taking up too much space with your cargo, whether you're traveling by plane, train, or car.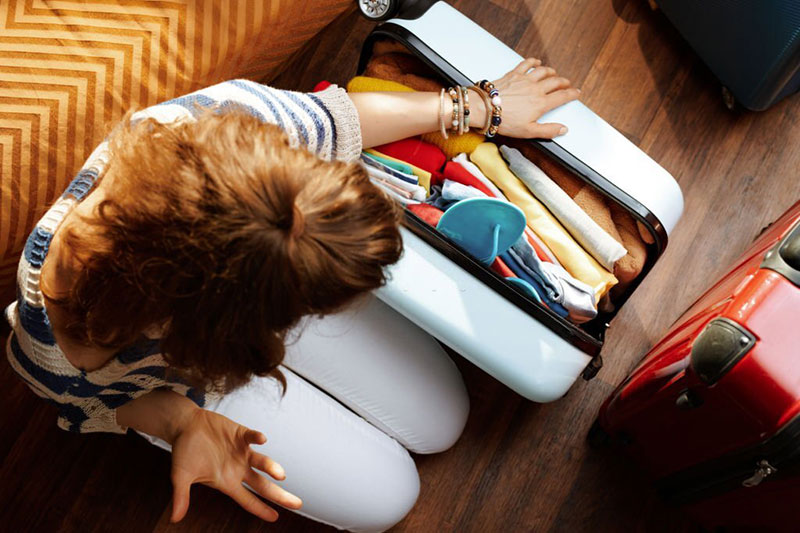 Many things run through your head while packing. What is there's an unexpected change in weather? What if go on a spur-of-the-moment fancy dinner? Overpacking is a sure formula for wrinkled clothing and disorganization. Below are a few tips and tricks to follow to avoid overpacking for your summer vacation.
Take One Bag: This might seem like an impossible feat to many. However, carrying less stuff will be so much easier when you're actually traveling and let's face it – no one wants to lug around five bags regardless of how you're traveling.
Focus On Essentials: Think about every item you plan on packing and how often you'll actually use it. It might seem like a great idea to pack that cute maxi dress that you don't get much use out of but will you really end up wearing it? Will you have access to laundry? If so, stick to only a couple pairs of jeans. Can you buy the essentials like toothpaste and shampoo once you get there? This way, you can purchase travel-sized necessities once you get there and toss them when you're ready to come home, reducing your cargo.
Pack Flexible Clothing: While this depends entirely on where you're going during what season, one key thing to keep in mind is to pack flexible clothing. Pack clothes that match a variety of outfits so you can easily mix and match. Shoes are a serious space-killer, so consider your needs for shoes as well. If you're taking advantage of a Patagonia vacation package, you'll want to focus on comfort over fashion but if you're taking a cruise, you might want to bring one nice pair of dress shoes as well.
Stay Travel-Sized: Leave full-sized beauty products at home – they often hold a lot of weight and take up a lot of space. Stay travel-sized and buy what you can at your destination. Again, bring only the essentials… you don't need all five of your perfumes for a week-long vacation.
Compact: Compress and compact to make the most of your suitcase space by rolling clothing, which prevents wrinkles too! Make use of any built-in pockets of your bag or suitcase to make the most of the space provided.
These are just a few ways to pack light for your next summer vacation. As long as you focus on the essentials and compact your clothing and items, you can ensure you won't be lugging around a large amount of stuff, making your travel that much easier.
Eric Decker is planning his next summer vacation for his family. He decides to find new ways to reduce all the luggage since he has a big family. Share your view on "5 Steps To Avoid Over Packing For Your Summer Vacation" in the comment section below.