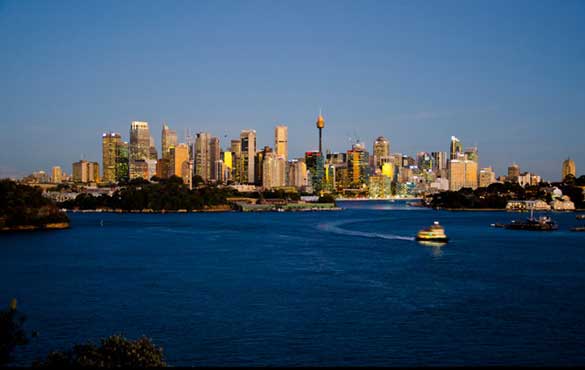 License: Creative Commons image source
Whether the streets of Sydney are your everyday stomping grounds or you're just whizzing past it on your holiday, it's always good to know what's up. Here is a guide of the highlights for the month of August in Sydney. With an event, concert, or show around every corner there is no excuse to not know what to do. So start planning and buying those tickets before it's too late!
Events and Festivals
What's there to do in Sydney you ask? Well, I'll ask you what is there not to do? This city is jam packed full with fun and amazing activities to do nearly any day of the week. So check out what's going on in August right here:
Old School Flicks
Taking it way back, but still totally cool is the classic drive-in movie theatre. Why not go back in a time and enjoy a movie with your family, friends or hot date at Randwick Racecourse. Every Friday-Sunday they will be showing a new flick for all to enjoy. Grab your popcorn, turn off the radio and roll down the windows, the show is about to begin.
I'm on a Boat
Alright, so maybe you won't actually be on the boat, but if you like boats, Sydney is the place to be August 1st-5th. This will be the 46th International Boat Show Sydney has hosted and it's being held at the Sydney Convention Centre and Exhibition Centre & Cockle Bay Marina, Darling Harbour. Besides plenty of boats showing off, there will be fun activities and educational workshops all related to boats of course.
Migrating Humpbacks
That's right, it's that time of year. Every year around this time the humpbacks and southern right whales head further away from Antarctica to avoid the bitter cold waters and breed. Either get up early or head out right before dinner to see the great whales migrating. At Cape Solander in Botany Bay National Park you have a very good chance of seeing these wonderful creatures. Palm Beach Lighthouse and North head Lookout in Sydney Harbour National Park are other good spots.
Buying in Bondi
You know the scene and you know the beach all too well… What else can Bondi offer? The Sunday Bondi Market of course. Every Sunday for the entire month starting at 10am – 4 pm. You will find everything from high-end couture to affordable threads, doggie digs and toys to artsy treasures. Just get here and find out for yourself!
Light Up the Night
If you want to add a bit of a bang to your evening then stroll on over to the lovely Darling Harbour on August 17th, 24th or 31st at around 8:30pm for the night of your life. You will have a spectacular night witnessing an epic firework show like no other, right over the harbour with the Sydney skyline as a back drop. Not a bad night right? To add more to your evening take your pick of over 20 bars and restaurants in the area to chill at before or after the show.
Concerts and Shows
Music is awesome and the only thing that can make it better is to hear it live. So while in Sydney make sure to check out if your favorite band is in town and get ready to hear them rage through the speakers for your pure enjoyment.
Colour Me
P!nk. You know her, don't you? Get to know her a bit better by swinging by the Sydney Entertainment Centre on any night between July 30th – August 10th and get ready for one insane show!
Jazzin' Tippy Toes
If you haven't seen a ballet yet, this is the time. The Sydney Eisteddfod McDonalds Ballet Scholarships and Open Jazz Group Finals are facing off for the final rounds at the Sydney Opera House on Sunday August 4th. This place gets packed to the max so grab your tickets and see some amazing talent jazz it out and dance on their tippy toes.
American Pie
You know the song American Pie, it's a classic and so is Don McLean for providing us with this timeless hit. Come down to the Enmore Theatre on August 30th to see him strum some of his best songs while you sing along and take a trip down memory lane.
Let it Be
The Beatles. Need I say anymore? While you won't be seeing the true band in concert you can see the next best thing. Check-in to the Sydney Opera House on August 30th or 31st and jam out to the tunes you have been listening to since you were little. After this concert, it's certain you will have these songs stuck in your head forever.
Sports
Do you like sports? Good, so does Sydney. They take their sporting events seriously so experience how a real Aussie watches a game cheers on their team.
Butting Heads
Australians sure do love their rugby. Wouldn't you like to see a game? Well pick any night of the week and there might be a game on. During the month of August there are various venues hosting games such as Centrebet Stadium, WIN Jubilee Oval Kogarah, Allianz Stadium, Shark Stadium and Brookvale Oval. Nearly every Friday- Monday night you can catch a Rugby Union or Rugby League game. There are many venues and the times are all different so if you feel like doing something a bit different and exciting, grab your friends and head to a stadium to see some true Aussie Rugby.
Goal
Score a goal by witnessing some intense football throughout the month of August. There are various football games happening during the month of August so tailgate, cheer and watch some football.
Skyline to Coastline
Whether you want to walk or run, go to Sydney Central Business District with your shoes laced up and get ready, get set, GO to Bondi Beach! This world famous run is celebrating its 42nd anniversary – so be a part of it. More than 700 charities benefit from this event so be there on August 11th and get ready to go 14km from Sydney City to the Surf of Bondi Beach
James Chatman writes for JC Limousines, a limousine hire company based in Sydney.